PRESS RELEASE
Blauer's Revolutionary Guardian™ Inner Duty Belt and Vise ™ Trainer's Belts Getting Positive Reviews
---
Boston, Massachusetts  – Blauer's innovative new line of belts for public safety, on the market for only a few months, is garnering positive customer reviews from public safety officials. As with every product they make, Blauer first heard about the need for the belts – the Guardian™ Keeper Belt and the Vise™ Trainer's Belt from those in the field.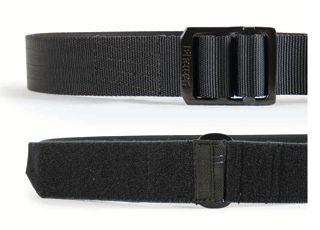 The Guardian (SKU B003), with its stretch construction and secure Velcro closure system, allows the inner keeper belt to conform to the officer's body.  Where traditional inner keeper belts, with their rigid construction, create pressure points on the officer's hips, the flexibility of the Guardian provides superior comfort by allowing the duty belt to better fit the shape of the officer (male or female.)  
With a secure Velcro closure system combined with a slim, durable central buckle to maximize attachment space for equipment and belt keepers, the Guardian garnered high praise from purchaser "Phipps," who states "(t)his under belt is amazing. The thin flexible design fits perfectly, unlike my previous belt which was thick and would grind into my hips with the duty belt's weight. Great, great, great product!"
Traditional trainer's belts are often too rigid to afford comfort, and heavy as well, but the Vise combines modern materials (including a lightweight alloy buckle) with innovative construction to ensure both a stable platform for equipment and a comfortable, secure fit for officers.  The 1.5" version (SKU B001) is perfect for everyday wear, while the 1.75" version (SKU B002) adds additional stiffness via a rigid interlining and also features a hidden cuff key pocket.  Owner "539Graham" states: "I've had this belt for about 6 months now and wear it 4 days a week.  The belt is comfortable and soft enough to wear regularly, but strong enough to support a holster with a full-sized 1911."
The Vise is available in waist sizes from 24 to 58 inches, and the Guardian fits between 26 and 56 inch waists.  For more information, visit http://www.blauer.com/belts.
About Blauer: Blauer Manufacturing Company has been headquartered in Boston since 1936 and is a leading designer and manufacturer of public safety apparel and protective equipment (PPE). For more information visit www.blauer.com

Request more info from Blauer Manufacturing Co. Inc.
Thank You!