PRESS RELEASE
DuPont Protection Technologies Announces Launch of DuPont™ SafeSPEC™ for Nomex®
---
WILMINGTON, Del., (March, 2015) – DuPont Protection Technologies (DuPont) today announced the launch of the latest version of DuPont™ SafeSPEC™, its suite of online interactive product selector tools. SafeSPEC™ for Nomex® Flame Resistant (FR) Apparel-North America enables professionals to make informed decisions about flame-resistant apparel options made with DuPont™ Nomex® brand fiber.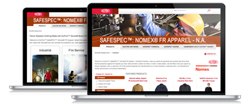 The tool offers several customizable product selection and search features for a full portfolio of garments and accessories that are made with Nomex®. The design allows users to search parameters that are tailored to their needs, including flame-resistant hazard, industry standards, garment type, certification, and availability. The tool also provides industry-specific search for Industrial and Fire Safety. The system will automatically upgrade with new features as they become available.

"This state-of-the-art tool enables the user to make selections for their quality and performance needs," said Lisa Roessler, regional marketing manager. "It builds on the world-class SafeSPEC™ platform that simplifies online research and provides tools for selection of chemical protective garments, controlled environment garments and accessories, and industrial gloves."

The toughest industrial jobs around the world face the risk of fire hazards during every shift, which is why FR clothing made with Nomex® fiber is selected for proven protection and comfort.  DuPont™ Nomex® fiber helps FR clothing protect industrial workers from the intense heat and flames of fire. A revolutionary, inherent heat- and flame-resistant fiber that reacts in a crisis, the heat and flame resistance is built into the Nomex® fiber; it cannot be washed out or worn away. Nomex® fiber can enable clothing to have the lowest possible weight at the highest level of protection, breathability for reduced heat stress and the ability to effectively wick away moisture.

SafeSPEC™ for Nomex® FR apparel provides product imagery, literature and "where to buy" information for FR protective garments made with Nomex® in the United States and Canada. SafeSPEC™ for Nomex® FR apparel is available via http://safespec.nomex.com/safespec/en/home.html.
DuPont Protection Technologies is a leader in technologies and products that protect people, the environment and critical assets worldwide. For additional information, please visit DuPont Protection Technologies.

DuPont (NYSE: DD) has been bringing world-class science and engineering to the global marketplace in the form of innovative products, materials, and services since 1802.  The company believes that by collaborating with customers, governments, NGOs, and thought leaders we can help find solutions to such global challenges as providing enough healthy food for people everywhere, decreasing dependence on fossil fuels, and protecting life and the environment.  For additional information about DuPont and its commitment to inclusive innovation, please visit http://www.dupont.com.