PRESS RELEASE
Fire-Dex Announces New FDX G1 Structural Glove
---
Abrasion-resistant and porous gloves built to last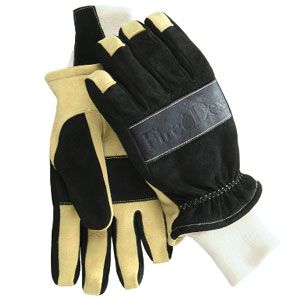 Medina, Ohio - Fire-Dex has a released a new structural glove that is unlike anything else currently available on the market. Not only does the FDX G1 have remarkable dexterity but has a 60+ TPP and class-leading Conductive Heat transfer protection.

The off-the-charts TPP score has come from using only the highest quality materials; all full-grain leathers and the latest in thermal protection, the Kovenex-R thermal liner.  The Conductive Heat Resistance testing times for the palm and back of the glove are also higher than anything in its class, and again went off the charts in many conditions.  The utmost protection is provided by the 5-Layer Back which has full-grain cowhide, full-grain pigskin, Pyrotect moisture barrier and 2 layers of Kovenex-R thermal.  The palm is full-grain goatskin with an additional full-grain pigskin palm strap.  Reversed leathers are used on the palm for extra grip.

The G1's superior dexterity comes from both its materials and its design.  Roll-over, seamless fingertips provide the best tactility, while pre-curved, ergonomically designed fingers add to the total dexterity.  Additionally, each finger is constructed of 4 panels of leather around the finger to give it a 3D shape, rather than most gloves which have 2 pieces of leather creating flat fingers.

These gloves are also built to last.  On the palms, wrapping around the finger tips, is goatskin which is both durable and supple because of goats' natural lanolin.  The back of the hand and the palm strap is pigskin which is abrasion resistant, doesn't stiffen after getting wet, has a porous hide offering the greatest breathability, and becomes softer with use.  Kovenex-R® is used for the thermal lining.  One of the newest materials in the fire industry, Kovenex-R® provides innovative protection, is thin and lightweight while providing exceptional durability and protection from heat and flame.

About Fire-Dex
Fire-Dex is a quality manufacturer of protective firefighting clothing, emergency response apparel, premium quality NFPA hoods, gloves, helmets and boots. Visit www.firedex.com or email info@firedex.com for more information on the FDX G1 gloves and other Fire-Dex products.  

Request more info from Fire-Dex, Inc.
Thank You!