PRESS RELEASE
Firefighter Activity at FDIC International 2016 Raises $18,340 for Terry Farrell Firefighters Fund
---
Globe and 3M Donate Funds from Firefighter Activity



PITTSFIELD, N.H. —
Globe Manufacturing Company
continued its partnership with the Terry Farrell Firefighters Fund at FDIC International 2016, the nation's largest firefighter training conference and exhibition held April 21-24 in Indianapolis. With its supplier partner, 3M, Globe invited attendees to try on its new ATHLETIX™ and G-XTREME ® 3.0 turnout gear and show their strength on a high striker. Firefighters then spun a wheel to determine a donation ® $10, $20, $50, or $100 ® to the Terry Farrell Firefighters Fund in their name. In total, Globe and 3M donated $18,340 to the Fund.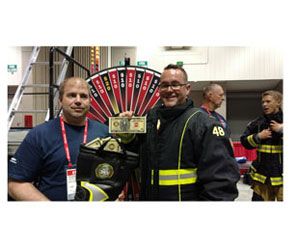 "The Terry Fund appreciates the great partnership we have with Globe. Globe not only makes some of the best and most innovative fire gear on the market today but also strongly supports the fire service through its direct assistance to the Terry Fund," said Brian Farrell, chairman of the Terry Farrell Firefighters Fund and brother of Terry Farrell. "Firefighters across America also directly benefit from the awareness that Globe brings to the Fund."
"Globe has always given back to the fire service and we are proud to partner with the Terry Farrell Firefighters Fund," said Rob Freese, senior vice president of marketing at Globe Manufacturing Company. "They are a hard working group of volunteers that assists firefighters and families across the nation with financial, educational and medical support, and provides equipment donations for fire departments in need."
"3M is honored to continue its partnership with Globe in supporting the Terry Farrell Firefighters Fund," said Jennifer L. Sickmann, Global Segment Marketing Manager for 3M™ Scotchlite™ Reflective Material. "The assistance which the Farrell volunteers provide to firefighters is outstanding and we're pleased to help further this cause."
About Globe
Firefighters need to be prepared to perform at the maximum of their ability, on every call. That's why Globe delivers the most advanced, best-fitting, and longest lasting protection by listening to our customers, creating breakthrough designs, and applying the engineering skills of the nation's most trusted turnout gear manufacturer. Globe turnout gear is designed to protect you, move with you, and improve your performance. It's athletic gear for firefighters. Learn more at
www.globeturnoutgear.com
.
About 3M
3M captures the spark of new ideas and transforms them into thousands of ingenious products. Our culture of creative collaboration inspires a never-ending stream of powerful technologies that make life better. 3M is the innovation company that never stops inventing. With $31 billion in sales, 3M employs 89,000 people worldwide and has operations in more than 70 countries. 3M offers a wide range of Scotchlite material that not only satisfies demand for visibility and durability, its versatility offers designers and manufacturers an endless list of creative applications. Scotchlite products include transfer films; fabrics; high gloss materials; pressure sensitive adhesive films; and graphic transfers. Visit
www.3m.com/scotchlite
or
https://www.facebook.com/scotchliteforfirefighters
. For more information, visit
www.3M.com
or follow @3MNews on Twitter.
About the Terry Farrell Firefighters Fund
The Terry Farrell Firefighters Fund is made of up firefighters and family members who volunteer their time and energy to help fellow brothers, sisters and departments in need. The fund operates annually on a budget of 1-3% and sustains itself through fundraising and the donations of individuals, fire departments and corporate sponsors. Contributions to the fund are tax deductible. National chapters are in Alabama, California, Colorado, Delaware, Florida, Georgia, Las Vegas, New Jersey, New York, Ohio, Pennsylvania, and Texas. Terry Farrell was a father, a husband, a brother, and a dedicated firefighter who lost his life on September 11, 2001, during the World Trade Center attack. Learn more at
www.terryfund.org
.

Request more info from Globe Turnout Gear
Thank You!