PRESS RELEASE
Maui Jim Announces Winner of the Public Safety Hero Program
---
In early July, Maui Jim launched our first-ever Public Safety Hero Program, whereas we asked officers, firefighters and EMTs to nominate a fellow worker who they deemed a hero. The winner would win an all expenses paid trip for two to Maui, Hawaii and the submitter would receive a $500 Maui Jim gift card.
We received a lot of great heroic stories and after much deliberation we picked our winner, Deputy Kevin Dixon of the Riverside County Sheriff's Department. Deputy Dixon was nominated by his fellow Deputy David Tinker. Here is his story: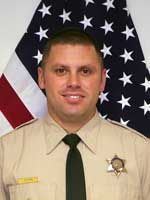 "On Saturday, 07/21/12, Deputy Dixon and several other deputies responded to a residence in Moreno Valley for a domestic dispute. Dispatch advised that the boyfriend of the reporting party was going to leave with their 11-month old baby. While they were responding to the residence, dispatch updated them and said the boyfriend now had a knife to the baby's throat.
Deputy Dixon arrived and contacted the boyfriend in the entry way of the residence. Deputy Dixon drew his firearm and gave orders for the boyfriend to drop the knife and put down the baby. The boyfriend did not comply and as he started to cut the baby's throat, Deputy Dixon fired his duty weapon several times hitting the suspect.
The baby was rescued and transported to the local hospital for severe lacerations to his throat. The baby received over 50 stitches and will survive. The suspect was transported to a local hospital and treated for his non-life threatening injuries. The suspect was later booked for numerous charges. I believe Deputy Dixon deserves this recognition for acting calm under pressure and saving the life of an 11-month old baby."
Deputy Dixon was beyond excited upon hearing the news saying, "This is an amazing gift and I'm looking forward to going."
Maui Jim wants to thank everyone who participated in the program and is also offering, exclusively for public safety, 40% off our sunglasses. To learn more visit: http://www.mauijim.com/publicsafetydetails.