PRESS RELEASE
MN8-Foxfire Introduces Illuminating "Firefighters for a Cure" Cancer Awareness T-Shirts
---
Shirts May Be Personalized with Department Name and Logo
Cincinnati, OH — MN8-Foxfire, the developer of Foxfire illuminating fire safety products for firefighters, has introduced an illuminating pink cancer awareness T-shirt that departments may personalize. The shirt graphic incorporates a cancer awareness ribbon and recognizable firefighter symbols with the phrase "Firefighters for a Cure." Fire departments may also customize the shirt by replacing the word firefighters with their department name and/or displaying their department logo on the shirt. A portion of the shirts' sales will be donated to the Fire Fighter Cancer Foundation, an organization that provides international outreach, support and resource assistance programs for firefighters and family members stricken by cancer.
The same photoluminescent technology used in Foxfire's fire safety products is used in the ink displayed on the shirt, enabling the graphics to brightly light up in the dark. In the dark, the shirts graphics glow green and blue. The shirts are available in both youth and adult sizes, with a base price of $24.95. (There is an additional $1.25 charge for youth sizes, a $2 charge for adult XX-Large, $3 for adult XXX-Large and $4 for adult XXXX-Large sizes). Personalized department T-shirts are available in a combination of different sizes, with a minimum order of 25. To order, visit store.mn8foxfire.com. To place a personalized department T-shirt order, please email kdorsey@mn8foxfire.com or call 513-761-7614 and ask for Kelly.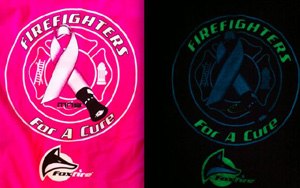 "As a full service cancer organization, we provide a range of assistance from advocacy training to legal help, in home air units, travel arrangements, referrals to cancer centers, and even assistance to families if there is unfortunately a death," says Jim Plieth, president of the Fire Fighter Cancer Foundation. "We're looking forward to our relationship with Foxfire in helping us get the word out about extinguishing firefighter cancer." Plieth is also a Detroit Firefighter, an IAFF certified fitness trainer and a burn survivor.
"We are excited to partner with MN8-Foxfire, because it is a firefighter owned company and also offers an innovative line of products to improve safety on the fire scene," says Cindy Ell, founder and executive director of the Fire Fighter Cancer Foundation and retired firefighter. "It is through collaborative efforts such as this, that we continue to improve firefighter health and safety awareness."
MN8-Foxfire is committed to helping others, especially fellow firefighters. "Cancer has touched so many of us," says Zachary Green, president of MN8-Foxfire. "Not only has cancer affected me personally by taking away a loved one last year, but it is also one of the most dangerous things a firefighter can encounter. In addition to heat, smoke and building collapse dangers, firefighters must be alert to the dangers of the silent killer, cancer. We feel strongly about doing anything we can to highlight awareness of this dangerous disease and are pleased to partner with the Fire Fighter Cancer Foundation."
Foxfire's new illuminating cancer awareness "Firefighters for a Cure" T-shirt joins Foxfire's growing line of illuminating T-shirts, which includes a "Keep Calm and Fight Fire," "Search and Rescue" and a "Flash the Fox" illuminating shirt. The company also offers illuminating custom duty T-shirts, featuring a fire department's logo and block letters depicting department name. Products are available for order from the Foxfire website at www.mn8foxfire.com as well as through MN8-Foxfire's distributor and Boots on the Street (independent sales representatives) network.
About The Fire Fighter Cancer Foundation
The Fire Fighter Cancer Foundation was established to provide international outreach, support, and resource assistance programs for fire fighters and family members that are stricken by cancer.  The Foundation is creating state of the art programs for cancer education, awareness, and prevention to ensure the quality of life and retirement of fire fighters around the world. For more information, visit www.ffcancer.org.
About MN8-Foxfire
MN8-Foxfire is a firefighter owned company offering energy efficient and eco-friendly products utilizing breakthrough advanced illumination technology. MN8's product offerings for the fire safety industry, marketed under the name Foxfire®, have earned a reputation for safety, high quality and performance-proven. This is readily apparent in Foxfire's photoluminescent helmet bands, coating kits, grip wrap, equipment bands, T-shirts, helmet tetrahedrons and other products. Foxfire products utilize an advanced photoluminescent technology that posses the unique capacity to absorb and store light and then release it as a bright luminance in the dark. When fully charged by any light source, Foxfire products can glow for up to 17 hours. Both the Cincinnati USA Regional Chamber and Cincinnati Innovates have recognized MN8-Foxfire for its efforts in developing technology that keeps firefighters safe. The company is headquartered in Wyoming, Ohio, a Cincinnati suburb. For more information, visit www.mn8products.com.