PRESS RELEASE
Morning Pride's NEW Hi-Visibility Utility Glove Now Available at TheFireStore.com
---
TheFireStore.com, the leading online source for firefighting equipment and supplies, has added the latest in technical rescue and recovery gloves from Morning Pride. Engineered to maximize durability and visibility, this Hi-Visibility Utility Glove provides enhanced protection and superior comfort under the harshest working environments.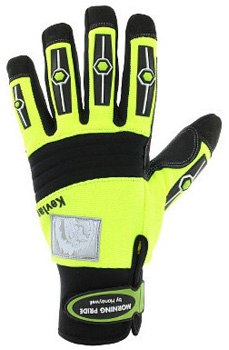 Coatesville, PA – TheFireStore.com expanded their vast glove selection with the addition of Morning Pride's NEW Hi-Visibility Utility Glove. This glove provides safety, performance and innovation to technical rescue and recovery operations.

The body of the Hi-Visibility Utility Glove is comprised of synthetic leather and Neoprene with strategically placed Thermoplastic Rubber (TPR) protectors to keep fingers and knuckles safe, maximizing the glove's feel and dexterity with no added bulk. These protection pads are attached to the fabric using ultrasonic welding.

Heavy-duty, non-slip palm, finger and saddle reinforcements mean you won't have to worry about losing grip on your tools in extreme wet conditions or having your gloves rip apart during heavy use. The signature lime fluorescent fabric and silver reflective material make them highly visible in dark situations.

Available in a standard Neoprene or Kevlar lined version. The dual-weave lining of Kevlar provides superior cut resistance and cotton adds comfort throughout the inside of the glove.

The visibility is further enhanced by the sewn in silver reflective Morning Pride patch on the back of the glove and a silver Reflexite strip on inner side of the glove cuff.



About TheFireStore.com and Witmer Public Safety Group, Inc.
TheFireStore.com, a division of Witmer Public Safety Group, Inc., offers product lines from more than 400 manufacturers. Witmer Public Safety Group's motto is Equipping Heroes™ and this continues as they extend their commitment to provide the industry's best equipment and supplies to the professional men and women who serve to ensure the public's safety. For additional information, please call (800) 852-6088 or visit TheFireStore.com.