PRESS RELEASE
TRU-SPEC announces newest addition to 24-7 Series Family: The Pro Vector Pant
---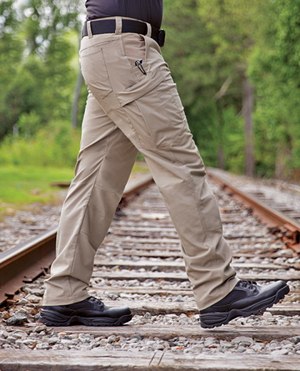 Setting the standard for comfort and mobility.
MARIETTA, Ga. — TRU-SPEC is proud to announce the newest addition to the 24-7 Series Family: The Pro Vector Pant. Setting the standard for comfort and mobility in a versatile pant that transitions easily from uniform to low profile, the Pro Vector is made from 2-way stretch water resistant fabric with specialty pockets to accommodate different types of equipment.
The Pro Vector micro rip-stop fabric is a technologically advanced mechanical stretch polyester cotton that is breathable. The gusseted crotch and integrated stretch panel waistband provides superior comfort and unparalleled mobility without creating pinch points.
The ergonomically designed pocket layout puts all the wearer's equipment in reach to complete any task. The deep front pockets are notched and reinforced for knives or accessories with clips. The inset cargo pockets have two internal magazine or accessory pockets and our easy access DropN pocket, set behind the cargo pockets, fits most cell phones. The back has both jean style pockets and a concealed hip pocket. The Pro Vector incorporates seven belt loops for added support and pairs perfectly with our Xtreme Belt System.
TRU-SPEC is one of the leading suppliers of personal equipment, material and uniforms to the military, law enforcement, first responder, and public safety markets. The Pro Vector pant is available now at TRUSPEC.com and our retail partners. Please contact us for more information, product reviews, or group sales.
About TRU-SPEC
Built on a foundation of durability, quality and value, TRU-SPEC is a leading supplier of uniforms and personal equipment to military, law enforcement and public safety markets. TRU-SPEC creates superior products that enhance safety, accuracy, speed and performance of thousands of police, firefighters, EMTs and military personnel who use and depend on our products daily. The name TRU-SPEC has become synonymous with innovation and service, delivering tough, functional gear to industry professionals.