PRESS RELEASE
True North, LLC Wins 2012 North American APEX Award
---
Seattle, WA – True North, the leading manufacturer of fire resistant fleece clothing, was awarded the 2012 North American APEX Award for their Dragon Shield™ FR Softshell Jacket
Polartec® announced the 13 North American garments chosen for its annual APEX Awards.  This prestigious honor goes to the finest Polartec®-based garments. A panel of judges selected the winners based on the style, function and fit of the garments as well as the most innovative and appropriate uses of Polartec® fabrics in the designs.
Made from Polartec® Power Shield® FR fabric, the Dragon Shield FR Softshell Jacket offers true flame resistance combined with a tightly woven face for abrasion resistance and a durable water repellency that provides weather protection while maintaining critical breathability that allows moisture vapor transport to keep you from overheating. It also features a grid fleece interior for insulation and improved wicking, reducing the weight and number of layers needed to insulate and protect. For more information please visit www.dragonwear.com/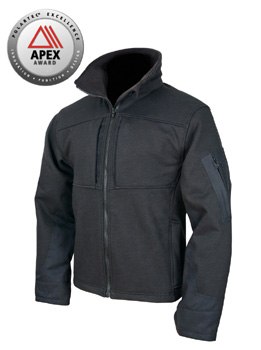 About True North, LLC
True North has been a trusted source for quality bags, backpacks and fire resistant clothing for two decades the True North® and DragonWear® brands. The company's commitment to quality manufacturing and innovation ensures that every product offers unrivaled comfort, function and reliability.  For more information, visit www.truenorthgear.com. 

Request more info from True North Gear
Thank You!