6 key questions about being a volunteer firefighter
Do volunteers get paid, how much training is involved, and other questions commonly asked about the volunteer fire service
---
FireRescue1 Poll: What's the biggest issue facing volunteerism in the fire service? Vote here.
Is it the shiny red trucks with their bright lights and loud sirens? Is it the brotherhood/sisterhood of being a part of something bigger than yourself? Is it the family calling? Is it a childhood dream finally coming to fruition? Is it the overwhelming desire to be there for someone during their darkest hour?
When asking volunteers firefighters why they decided to join their respective departments, you will get a different answer each time.
If you're considering becoming a volunteer firefighter, you probably have some questions. Here, I'll answer six common questions about what it's really like to serve in the volunteer fire service.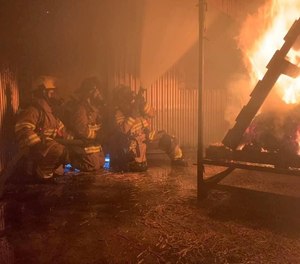 1. How can I get involved with a volunteer fire company?
Simple, go to your local volunteer firehouse and ask or find your nearest Public Safety Office or Emergency Service Division. If you live in a big city, you may be hard-pressed to find an all-volunteer department. If you are in a rural area, there is usually no shortage of extra gear ready for someone like you.
Each area of the country has its own set of standards and rules that apply for volunteering as a firefighter. Some departments require you to have a state certification within one year of membership, and others have a robust in-house training program that parallels a fire academy by trained and certified instructors. Everything will be laid out for you when you seek an application.
[Read next: How can I get involved with a volunteer fire department?]
2. How much time is required of volunteer firefighters?
Even as the volunteer fire service has seen a national decrease in overall volunteerism, there is still a strict standard to provide the most professional level of firefighting to the community in which you are to serve.
You should be prepared for a minimum of three hours of training a week, 52 weeks a year. You might have a career that you must tend to during the day to pay your bills, and perhaps a family that needs your attention, but you need to train and practice in order to be ready. It seems like a lot but remember, your neighbor didn't call 911 to hear a fire truck come down the street with pretty lights. They called because they need professional firefighters trained to handle any situation thrown at them.
3. What's volunteer firefighter training like?
It may seem daunting and a little overwhelming covering situations such as vehicle extrication, fire control and suppression, types of building construction, calculating gpm from a hydrant into your pump panel in order to calculate the amount of water you will need from a mutual-aid department into your two dump tanks – and all this while you have an attack line into a two-story dwelling, calculating friction loss and elevation loss, as Air Medical is landing downwind away from power lines for the burn victim you just saved.
Have no fear, you are not expected to know this when you first join! Everything takes time, and as the probie, you are expected to help wherever your experience and limitations allow. You will have the training – in class, practical application and from the wisdom of the grey-haired grumpy souls who have been around since horses were pulling steam pumpers.
We still trust and utilize our handlebar-mustache membership to provide us the art behind the science of our craft. There is something to the stories about using the heat on your ears to know that it's about to get bad or how the officer's rank insignia is actually an ode to the past when officers used to use the speaking trumpets to amplify their voices over the noise and commotion in order to effectively lead their firefighters in a fire. Like anything, there is a million ways to get a cat out of a tree.

4. Do volunteer firefighters get paid?
Although the label is volunteer and most departments do not provide any form of monetary compensation to the membership, some do. One example of this is in tourist areas with seasonal influx of people where they need more firefighters to supplement their staff. These are usually state-certified members who must provide a certain number of hours for their small check.
Some departments pay $2 per call, and this is to cover gas, not something that is going to pay the bills. But it is a nice gesture that keeps people honest.
Just remember, the definition of volunteer is freely giving time to benefit others.
5. Do volunteer firefighters respond from home or from a station?
When you are finally a part of the team, you can expect to receive either a pager or a smartphone app that your department uses to inform you of an alarm, as most volunteer companies don't have a "sleep in quarters"-type station. You will respond to the station from wherever you are.
This can become somewhat of a challenge to get used to, but remember, you are here to help the community. You will leave your family in the middle of dinner. You will miss a recital. You could be late to work or a first date. And you could be woken up at 2 a.m. to help reset a faulty alarm. The list is endless, but you will take pride in knowing that at the end of the day, you were there to help when someone needed you.
As with anything, it's not always 75 degrees and sunny; you will have rainy days. You will be frustrated. Just remember, you are volunteering. Time management needs to be incorporated into your plan. Everyone on the team is giving up as much as the next person. Never allow complacency, but understand the importance of empathy. Even the greatest departments, or even private businesses, have their issues.
As long as you remember why you are there and know it is different for everyone, you will be just fine.
6. How does volunteer firefighting work affect family?
Family, in my opinion, works for the volunteer department. You can read almost anywhere that it's a generational profession passed down through time, it's in the bloodline, or it's just how it's done. My father joined the department in 1968 and was active for over 50 years. My mom was part of the ladies' auxiliary, my brothers and sister were members, and my younger brother still is.
Most all my friends are firefighters and those who aren't, well, they're missing out.
I was raised in a firehouse and would have it no other way. I have shared in weddings, new family additions and loses. People who I'd probably never be friends with, I now share a trusted bond with like no other. The electrical engineer, the tree service guy, the up-and-coming entrepreneur, the home repair contractor and banker – all an extension of me.
I get to brag and say that my wife is also a volunteer firefighter, and I am lucky to have older kids who tell me they understand when we are away, but it doesn't make it any easier when one of us misses a game, homework assignment or precious moment in their life. My wife and I go to training together, respond to calls together and even critique each other. We have put out trailer fires, car fires, stood traffic duty and even helped rescue kittens. And like I stated before, everyone is different, but this works for us.
Consider your "why" for volunteering
At the end of the day, all the T-shirts, parades and cool-looking trucks are just a byproduct of good old-fashioned blood, sweat and tears on the training ground. We make our money through repetition and failure at the station so that when the bell tolls, we are ready to be professional, unpaid firefighters the public wants and, more importantly, needs to help them during their darkest hour.
We receive thanks from those we help and those who notice us around town. We participate in parades and celebration drive-bys. Yes, we lack adequate sleep sometimes, but at the end of the day, when we look in the mirror, we know that we helped someone today and we get to do it again tomorrow.
What's your "why"? That's for you to decide when you join.
[Read more from Firefighter Pribyl: 'I am your local volunteer firefighter']
Editor's Note: Do you have a question about being a volunteer firefighter? Share your question in the Comments below.