Pink T-shirt ban for NJ firefighters
Members 'can't alter the uniform and must maintain a professional image' when in public
---
NORTH HUDSON, N.J. — Firefighters at a fire department in New Jersey have been banned from wearing pink T-shirts in public for Breast Cancer Awareness Month.
Members of North Hudson Regional Fire and Rescue were given permission from management in September to participate in this month's national Pink for a Cure campaign, according to The Jersey Journal.
The firefighters ordered the pink T-shirts and had been wearing them in public.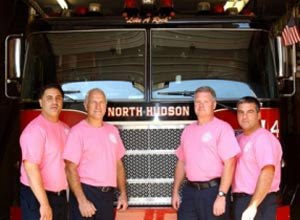 But officials have now ordered they can only be worn inside the firehouse, or covered up by department-issued gear if they head outside, according to Tom Calucci, vice president of the North Hudson Firefighters Association.
"It's a little disappointing to the members," Colacci told CBS New York. "Quite a few of our members have had to deal with breast cancer in the family.
"People that were walking past the firehouse while the men were doing their check of the fire truck outside (said), 'Oh, you know, that's great you guys are doing that. Is there anywhere we can buy them?'"
Department management told the Jersey Journal the firefighters can't alter the uniform and must maintain a professional image.
"We want to have a uniform so people know they're really firefighters and they look professional," NHRFR Co-Director Jeff Welz, a colon cancer survivor, said.
"They can wear the pink T-shirt in headquarters, but not in public."