PRESS RELEASE
5.11 Heats Things up with Fire-Retardant Clothing for Law Enforcement, Firefighters and Military Personnel
---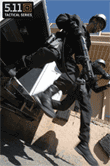 Over the past couple of years, 5.11 Tactical Series®;, maker of innovative tactical gear for law enforcement, military and fire professionals, has received numerous requests from first responders, firefighters and EMS operators asking for apparel developed specifically for them. Interestingly, during that same time period, 5.11 had been working with bomb squads and special ops units to create a line of comfortable, fire retardant clothing to meet their unique requirements. The resulting apparel is ideal for all public safety personnel due to their similar operational needs.

Always working to enhance the safety, efficiency and comfort of specialized end-users both on and off the job, 5.11 recently introduced revolutionary FR-x3™ fabric – an exciting breakthrough in fire retardant technology that feels "broken in" from day one. It's so pleasant and wearable, you'd never know the fabric was fire retardant. Although it feels as great as your favorite cotton t-shirt and khakis, this state-of-the-art material doesn't shrink, curl, melt or drip when exposed to flame – and instantly self-extinguishes.

"This unique fabric is not only for firefighters, but also benefits military and law enforcement personnel," says Francisco Morales, president of 5.11 Tactical. "While it isn't designed to provide exterior protection like turnout gear offers, it is worn as a base layer that delivers enhanced skin protection underneath a uniform during fire rescues and other volatile situations. Because the fabric doesn't catch fire or melt onto skin, it's safer than wearing regular cotton or many of the other traditional fire-retardant fabrics."

Exclusive to 5.11 Tactical®, the fabric contains a proprietary blend of 51% S.P.™ cotton and 49% FR-x3 modacrylic fiber. It offers cotton's natural breathability, comfort and ease of care, yet its fire-retardant properties are permanent. They're integral to the fabric and won't wash or wear out. FR-x3 meets and exceeds minimum standards in NFPA 1975 requirements for no-drip, char length and after-flame properties according to ASTM D6413.

When exposed to flame, FR-x3-blended fibers create a char barrier that offers extra skin protection and greater safety. The fabric's high cotton ratio gives it excellent anti-static properties as well.

FR-x3 fabric was originally developed for use by special forces as a next-to-skin alternative to non-fire-retardant shirts. "Special forces said they needed a comfortable, moisture-wicking base layer that was also fire retardant," Morales says. "Our Flash line is extremely comfortable thanks to FR-x3 technology, which allows us to use a very high cotton content and still meet the fire retardant standards." He adds that the futuristic FR-x3 fabric blend has been so well received, 5.11 has developed additional fabrics using the same technology. The entire line is now being utilized by law enforcement, military and fire professionals worldwide.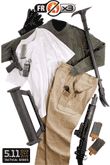 Now itchy, irritating pants and shirts can be replaced with 5.11's unique, fire-retardant clothing system designed from the inside out. Included are both base and top elements so apparel can be layered for optimal air circulation and greater freedom of movement. Wearers can immediately feel the difference when they first try on 5.11's cutting-edge shirts, pants, jumpsuit and gloves.

5.11 offers two Flash Undergear™ Shirts: a short-sleeve crew-neck and a long-sleeve mock-neck. Both shirts are made of antimicrobial, moisture-wicking FR-x3 fabric and feature saddle-shoulder construction for increased comfort, even in full gear. The crew is priced from $34.99 and comes in white, ACU tan, OD green, dark navy and black. Pricing for the mock, which is available in OD green and black, begins at $49.99.

Constructed of sturdy 8.5-oz. FR-x3 canvas, the fire-retardant Flash™ Pant is patterned after 5.11's original Tactical Pant, but with slightly wider legs to accommodate boots. Multiple pockets, a tunnel-waist, bartacks, triple-stitching and a button closure round out this classic duty staple. Priced from $79.99, the pant comes in khaki, OD green, dark navy and black.

Built from 5.7-oz., fire-retardant FR-x3 twill fabric, 5.11's Flash™ Jumpsuit takes performance to another level. Its mandarin collar and Velcro® closures at wrists and ankles make it an ideal extrication garment for greater protection against Flash fires. Innovative features include hidden document pockets and cargo pockets with an integrated organizer design. Also included are belt-keepers, an adjustable waist and a double-layered seat, plus triple-stitching and bartacks throughout. The jumpsuit comes in black and pricing begins at $169.99.



5.11's Tac-NFO Nomex Glove offers the dexterity and comfort first responders need, while the Nomex® fabric delivers enhanced heat and flame resistance. The genuine leather palm includes extra layers of leather in high friction areas for durability. If a full-length glove is needed, the Tac-NFOE Extended Nomex Glove is an excellent choice. It features a leather palm and leather reinforcements and fingertips. Pricing starts at $34.99.

Tony Lott, regional sales manager for 5.11 Tactical, says many departments are now evaluating 5.11's fire retardant clothing line. "Interested officers, captains and battalion chiefs from all over the world have inquired about our exciting new gear. End-users have seen our superior fabrics and details and are asking for more information for their departments. We've met with several agencies and are now outfitting their teams."

In addition to 5.11's exceptional fire-retardant clothing, a wide selection of non-fire-retardant footwear, TDU and tactical clothing, belts, socks, outerwear and more is also available. Visit www.511tactical.com to find a 5.11 Full Line Dealer near you.


About 5.11 Tactical Series®
5.11 Tactical Series creates superior products that enhance the safety, accuracy, speed and performance of law enforcement, military and firefighting professionals. Built on a foundation of durability, quality and value, 5.11 Tactical leads the industry by delivering functionally innovative gear, head to toe. Learn more about 5.11 Tactical Series and our best-selling tactical clothing, uniforms, outerwear, footwear, FR-x3™, ZB-7™, 5.11 Challenge and more at www.511tactical.com.