PRESS RELEASE
Black Helmet Firefighter Apparel Creates Original T-shirt Designs for Firefighters
---
end picture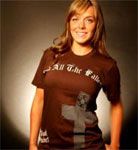 Black Helmet Apparel was founded by a fireman for firefighters. All the designs are hand drawn and unique. You'll find no clip art here. You'll only find the images that relay the fearless, but frightening side of our job. One look should invoke the feeling you feel on the way to the column, and the satisfaction you feel once the fire is out. We don't want cheesy sayings. Just the simple message. Smoke Showin'. Aggressive Attack. Adapt and Overcome. Fight Fire. Fire Out.

One of our customers sums it up with this comment:
My boyfriend and I are in the department. We both started off as firefighters, but he climbed the ranks and is currently a battalion chief while I chose to spend the rest of my career on the engine. I bought a few Black Helmet Apparel shirts and a cap, and he expressed a little 'tude about why there wasn't any WHITE helmet apparel choices. Sour grapes.
He recently ate some smoke on an amazing rescue, which COOKED his pristinely white helmet....it's almost completely black. So, you guessed, he's back in "the club"....I let him have my Black Helmet baseball cap, he's sporting it very proudly.
This is how we live. It's what we love. Protect the public, and the brother or sister at your side. Remember those who went before. Teach the new ones coming up. We put on the brotherhood when we put on that Helmet.
The Tradition.
My grandfather is a retired chief of Miami-Dade Fire Rescue. His first helmet was black. My father, retired engineer with 33 years of firefighting experience with MDFR. His helmet is black. My uncle, now a chief for Orlando Fire... First helmet, black. The helmet of my young 6 year career on OFD. Black. And now my cousin, the Rookie. His helmet is black. Our equipment has changed between the generations. The open cab is a thing of the past. You can't ride the tailboard anymore. 3/4 boots are gone. Debates about smooth bore vs fog stream. The only constant has been our code of conduct as firefighters and our Black Helmet.
Visit Black Helmet Apparel online.