PRESS RELEASE
Fire Dog Services Announces 5th Annual Road Trip Pick-Up
---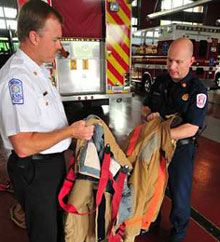 Contact us to get your department signed up for our 5th Annual Road Trip Pick-Up which is scheduled sometime before Winter of 2011! 
Our route will begin in The Piedmont/ Triad of North Carolina and conclude in Ormond Beach, Florida.
Our basic route will take Interstate 85 to Interstate 95 passing many towns, cities and through parts of the estimated counties listed below.
Our route is determined by any departments that sign up between now and then. Please contact us to schedule us to stop by your department to collect any of your used, old, extra or unwanted firefighting equipment...regardless of it's condition or age. There is no limit to the amount or types of items you can donate.
Once you contact us, we will go over more details and can provide more information. So please let us know!



We will be accepting ANY fire equipment items in any age or condition! Your donations will be much appreciated.

Get more details at http://firedogmascot.webs.com/freepickup.htm or call 352-537-2538.