Independent service providers: A valuable FD resource for PPE care and maintenance
How to use an ISP to navigate the implementation of your NFPA 1851 PPE program
---
For this column, we invited Tim Tomlinson, Addison (Texas) firefighter, ISP co-owner and chair of the NFPA committee responsible for NFPA 1851, to offer his insight on the role of ISPs to help fire departments clean and maintain their gear as part of an overall PPE Program.
Significant progress was made in finalizing the 2020 revision of NFPA 1851: Standard on Selection, Care, and Maintenance of Protective Ensembles for Structural Fire Fighting and Proximity Fire Fighting. The standard sets the foundation for the proper cleaning and maintenance of PPE, limiting exposure to fireground contaminants, disinfection of microbial contamination, and other specialized considerations, such as handling of asbestos contaminated PPE and bulk chemicals. Further, the standard implemented tools to better determine efficacy of the processes, technologies and formulations used for addressing exposures.
With NFPA 1851 (2020) now in place for a little more than two years, much of the fire service has embraced these changes, with fire departments actively working to implement these requirements into their PPE programs.
With this effort comes an increased need for internal and external resources to support fire department compliance with NFPA 1851. One resource that can be of great value to fire departments is establishing a relationship with an independent service provider (ISP).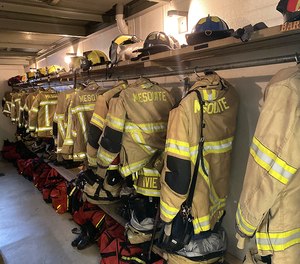 Setting up an NFPA 1851 PPE program
Establishing an NFPA 1851 program might seem overwhelming, but it doesn't have to be. Working with an ISP can help your department meet the requirements of a comprehensive program.
Education on NFPA 1851 is the first step in understanding the minimum requirements for a compliant PPE program. ISPs can provide this education to guide departments on all areas of NFPA 1851, including help with performing risk assessments, determining PPE specifications that meet assessment findings, writing standard operating procedures (SOPs), conducting in-department PPE cleaning, inspecting PPE, documenting care and maintenance, and addressing how to handle the retirement and disposal of non-serviceable or out-of-date PPE. In this role, an ISP can show departments best practices to not only meet minimum requirements of NFPA 1851 but also to implement those practices most efficiently, with the needed equipment and supplies.
One important element of a department's PPE program is the development of a risk assessment as it relates to their selection and use of PPE. Departments should consider response activities and distinguish more specifically the types of incidents requiring response. This helps departments determine the PPE specifications, designs and performance levels needed for their team. It is easy to get caught up in how another or larger department is outfitting firefighters for PPE, but this may not be what is best for your department. ISPs see all makes and models of PPE. They have knowledge on cleanability and repairs, and most understand the design, construction and performance based on experience from working on many different PPE specifications. This information can be assessed, along with published key certification performance values of PPE, to determine which PPE materials and specifications are best for your department.
Developing SOPs and SOGs
Developing a set of SOPs or standard operating guidelines (SOGs), in conjunction with an ISP, can facilitate a department's plan on how to handle its members' PPE, working toward the highest reduction of contamination. Outlined procedures for preliminary exposure reduction (PER), advanced cleaning, and handling directions for various types of exposures should all be included. In addition, departments will need response guidance to the findings of the advanced inspections, including deciding whether the gear is safe to put back in service or if repairs are needed, and when and how gear should be retired. This is the types of information that can be provided by both manufacturers and ISPs.
Advanced cleaning should be done twice per year. One of the advanced cleanings must be accompanied by an advanced inspection. Additionally, it is recommended that PPE be cleaned after every exposure. It is important to determine whether your department will handle the cleaning internally or through an ISP. This decision will guide the formation of your program. Regardless of the decision, working with an ISP can ease and assist departments in both formulating and executing a program.
Choosing cleaning and inspection approaches
If a department chooses to perform its own cleaning, then it will need to train its members for this task. Along with training, an ISP can assist departments with gear specifications, purchase, setup and implementation of procedures for performing advanced cleaning. Departments should lean on the ISP's expertise as they spend a great deal of time and resources developing procedures, determining what equipment to use, identifying which detergents to clean with and which formulas provide the highest efficacy.
ISPs go through third-party verification to ensure that their cleaning products and procedures are effective. Many ISPs are willing to share this information with departments, allowing them to also accomplish validated cleaning internally. Cleanings can be done internally at fire departments, supplemented with the services of an ISP, or completely outsourced. The choice of the department should be made by working with an ISP to determine what type of program is best for them to meet a department's available resources and budget.
Another requirement of NFPA 1851 is advanced inspections. Those performing the inspections require training. This training includes identifying when inspections should be conducted, how to properly inspect PPE, and what specific findings mean, as well as what response is required.
Additionally, a program must maintain detailed PPE records. These records must include a dated account of inspections, findings and responses, the reason for the inspections, disinfections, sanitizations and specialized cleanings in addition to advanced cleaning. Documentation should include the full-service life of the PPE until it is retired, and how it was disposed of.
There are many ways to accomplish this – PPE specific software programs, paper documentation, and computer databases, to name a few. Ultimately, this records management depends on what is best for the department, plus its available resources and technology capabilities. Again, working with an ISP can be a source of different approaches to meet this need as most have already developed software programs.
Knowing when to retire PPE
Retirement criteria and disposal of PPE protocols must also be determined. NFPA 1851 provides guidelines for PPE that meet recommended retirement criteria. This decision involves several questions:
Is the gear being retired from age, no longer serviceable or too expensive to repair?
What types of exposures cannot be cleaned and require retirement of PPE?
What findings during the advanced inspection determine retirement of PPE?
When working with an ISP, what number of repairs would warrant retirement?
An ISP will cover these factors during your training, which would then be outlined in your SOPs/SOGs.
Departments should agree with an ISP on a cost matrix to specify what number of repairs is cost-effective in investing in the gear. If the PPE is retired, what are your department's disposal procedures? Will the PPE be used for non-live fire training, and what needs to be done and documented if your department chooses this option? These are all questions that can and should be discussed with an ISP.
Prioritizing cleaner, safer PPE
So much goes into the development and implementation of a compliant PPE program. There are also many ways to achieve compliance. Using an ISP, whether it's to help initiate your program, supplement your existing program or completely run your program for you, provides a resource that should help your department accomplish the goal of maintaining the safest PPE possible for your department and its members.
Determine your resources, budget, and goals for meeting the requirements of an NFPA 1851-compliant program and utilize an ISP to help you implement and teach you how to achieve the best program to keep your members safe and healthy.
Note: The views of the author do not necessarily reflect those of the sponsor.