Little things mean a lot, especially concerning your PPE
It all comes down to proper fit and use, post-incident reviews, and policies and procedures
---
This content originally appeared in FireRescue1's PPE101 newsletter. Sign up here for the latest news, training and standards information related to firefighter PPE.
From the time I was first promoted to the rank of company officer until I retired as a battalion chief, I repeated the following to my folks what felt like a thousand times: "Firefighting requires that we execute a series of simple tasks, in the correct order, and in a timely manner on every call for service."
Simple tasks: Donning your PPE and SCBA. Selecting the right equipment and tools for the job at hand. Assessing what's always happening in your space. Communicating what's happening – both good and bad – clearly and succinctly to your overhead position (e.g., division or group supervisor, incident commander).
There's clearly a lot to unpack here. So, where do we begin? Let's start with PPE. In this piece, we'll consider four simple, but vital, points: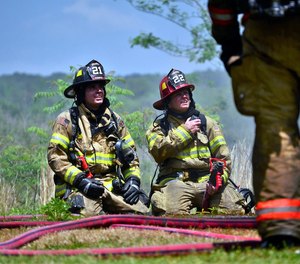 Proper PPE fit and function
Proper PPE use
Post-incident review of PPE issues
PPE policy and procedures
Let's consider how each simple PPE point plays a big role in your safety and fireground effectiveness.
1. Proper PPE fit and function
When it comes to PPE fit and function, there's an undeniable truth: Male and female body types are different. It's taken the fire service awhile to recognize that, but the "picture" is coming into clearer focus.
Meredith McQuerry, an assistant professor in the Jim Moran College of Entrepreneurship at Florida State University, studied differences in mobility for male and female firefighters while wearing their structural firefighting ensemble. In study results published in the journal Applied Ergonomics, McQuerry listed some of the study's key findings:
Firefighters experience significant reductions in mobility when donning improper fitting structural turnout gear;
Female firefighters are more likely to perceive their turnout suits as being "too large" compared to their male counterparts;
Significant range of motion differences when wearing structural turnout gear are gender specific; and
Fit perception data indicates the male-centered design of the turnout suit introduces gender-specific fit issues.
McQuerry noted: "There's not enough research to say 100 percent 'This is what a female turnout suit needs to be' but we do know women need a suit designed for them. The National Fire Protection Association sees the need. There are female and male sizes, but those are oversimplifications that don't take different anthropometric proportions into account, like the waist-to-hip ratio, the bust or shoulder breadth."
Proper fitting PPE is a firefighter health and safety issue. In their study "Assessment of Firefighters' needs for personal protective equipment," researchers assessed the needs for design of firefighters' PPE: "Firefighters' responses indicate three major issues to be considered for improved mobility, comfort, and safety: 1) consideration of human factors, 2) sizing and fit, and 3) integrity of protection in the interface between protective equipment and turnout ensemble."
Poor fitting PPE adversely affects mobility. That reduced mobility means a firefighter must work harder, and that increased effort means an increased risk dehydration and hyperthermia. When that happens, the firefighter wearing that PPE is at an increased risk of a heat-related event, such as heat cramps, heat exhaustion or heat stroke, or a sudden cardiac event, like a heart attack or stroke.
2. Proper PPE use
The NFPA reports that, on average, firefighters suffer approximately 80,000 injuries annually. But digging deeper into the available data, you'll see that very few fire incident reports describe what, if any, impact the firefighting PPE had – good or bad – on the reported injury. This begs several questions:
Was it the right equipment for the task?
Was it worn properly?
Was it well-maintained and still compliant with the applicable NFPA standard?
VFIS, in one of its "Tailboard Training" online posts, Firefighter injury cause: PPE failure in fires, wrote: "Interestingly, for those incident reports that described PPE as a contributing factor in the firefighter injury, gloves, wristlets, SCBA, and protective hoods accounted for 32 percent of the PPE issues."
For most fire departments, the structural firefighting protective ensemble is the "one size fits all" PPE solution for all calls for service. However, those risks I described above are only exacerbated when firefighters are wearing their structural PPE while engaged in non-firefighting operations (e.g., brush/vegetation fires, extrications, hazmat calls) for what can be long durations.
Fire departments would do well to help their personnel to develop "PPE literacy" – firefighters having the ability to assess the potential risks for injury and then selecting PPE that can best address those risks without creating a situation where they face dehydration or hyperthermia. For example:
Most fire departments that provide service delivery for hazmat emergencies learned that "Level A all the way!" was not a safe, effective or efficient PPE use strategy. Personal in those fire departments became skilled and practiced at selecting the appropriate PPE (e.g., Level B or C clothing, air-purifying respirators, coveralls) based upon their assessment of the risks they faced.
[Read Next: PPE assessment: Size-up your call types to determine your gear needs]
3. Post-incident review of PPE issues
Fire department leaders should conduct a post-incident review, more commonly known as a "hot wash", that looks at how PPE was used during a response. A hot wash is typically done back at the station where all personnel gather to consider these points:
What happened? Everyone on the call may not be aware of all the information, so get everyone on the same page.
What guided PPE selection? How were the risks assessed and by whom?
What worked well? Ensure that positive PPE use behaviors are recognized.
What didn't work well? Clearly identify the behaviors that need improvement (e.g., the selection of PPE, how PPE was worn, the impact of the PPE on the firefighters).
What will we do differently next time?
Conducting a hot wash serves to 1) reinforce proper PPE use, 2) modify incorrect PPE use and 3) create a positive expectation for the future use of PPE at a similar event. More importantly, it reinforces that the proper selection of PPE, based upon the risks present, is a critical part of the department's commitment to provide a safe working environment for its personnel.
4. PPE policy and procedures
In the article 3 Tools for Sharing Organizational Knowledge, I wrote about the critical role that policies, procedures and processes have in communicating organizational knowledge.
Good policies describe the expected behavior and good procedures describe how to achieve those expected behaviors. Good policies and procedures are made even better when they are clearly written, well organized, easily accessible by anyone who needs to see them, and consistently updated!
"Level A is not the way"
The little things really do mean a lot – and they really aren't so little when you think about it. PPE fit and function, PPE use, post-incident reviews of PPE issues, and PPE policy and procedures are all back to basics aspects of PPE but they are critical to your safety and effectiveness on the incident scene. After all, "Level A is not the way" also applies to you and your structural firefighting PPE.
References
McQuerry, M. (2020, January). "Effect of structural turnout suit fit on female versus male firefighter range of motion." Retrieved from Science Direct.
McQuerry, M. (2020, January 28). "Male and Female Firefighters Have Different PPE Issues." Retrieved from FirefighterCloseCalls.
Park, J., Park, H., Lin, S., & et al. (2014, July 9). "Assessment of Firefighters' needs for personal protective equipment." Fashion and Textiles, pp. 1-8.