Venting some heat: Coaxsher's CX Wildland Vent Brush Shirt
Fire gear and outdoor company jumps into clothing business
---
By Scott M. Bruner
FireRescue1 Product Editor
Coaxsher's list of fire gear and outdoors accessories is impressive. From packs to harnesses, the Washington company already offers a wide range of products for the wildland firefighting community. The release of their CX Wildland Vent Brush Shirt, however, is their first foray into firefighting clothing, and their attempt to bring outdoor technology to the firefighting world.
"This type of product has been stagnant for years and was begging for an update. We spoke with wildland firefighters and asked them what they wanted to see offered. The CX Wildland Vent Brush Shirt is the result," Kyle Cox, one of the founders of Coaxsher, said. "We took our product to the next level with vent openings, roomy pockets and a comfortable design."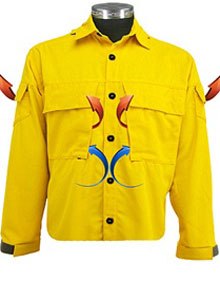 The CX shirt has been in development for eight years, and is specifically designed for wildland firefighters as well as search and rescue units. Cox himself was a wildland firefighter in Entiat, Wash.
Coaxsher was founded by Cox and his brother Kevin as an outdoor company, but the duo realized how far behind the technology curve wildland fire gear was, when compared to outdoor recreational gear .The CX Wildland shirt is one of their first items to help bridge that gap. The CX Wildland shirt's goal is to provide a shirt that provided improved ventilation, without sacrificing mobility or comfort.
The long-sleeved CX Wildland Vent Brush Shirt's main feature is the inclusion of its "Xvent" technology. Xvent is designed to allow heat to be released from the body from specially-designed vent opening behind the pockets on the chest and shoulders. According to Coaxsher, the vents improve torso airflow, letting hot air escape, and cooler air enter. Each vent is zippered, and backed with aramid material to keep the closure system away from the body.
"First and foremost, we wanted to address the extreme heat a firefighter faces, working in 90-degree heat with heavy gear. I saw firsthand the dangers of heat stress, and Xvent was designed to address that," Cox said.
The shoulder pockets have space for fire-retardant padding (to provide comfort when hauling gear), which is not included with the shirt.
The shirts are made from Tecasafe Plus 700 material and Nomex crag-spun thread. The shirt weighs 27 oz. in extra large. It is a bright, bold, firefighter-friendly yellow. This shirt is pending NFPA-1977, 2005 certification. It will retail for $119.95 when it is released Feb.15. The shirt also includes a lifetime warranty.
The Cox brothers founded Coaxsher in February 2001 to design and create versatile, user-friendly outdoor gear. Their gear is used around the world by wilderness firefighters, search and rescue teams, and emergency medical technicians. You can visit them on the Web at www.coaxsher.com.