Blackinton & Co. Inc. continues producing pink Breast Cancer Awareness badges
The company donates 10 percent of sales to charities assisting cancer patients and their families
---
Blackinton & Co. Inc. created a Breast Cancer Awareness product line to raise money for, and bring awareness to, the fight against cancer.
The product line consists of the company's fire, police and sheriff badges in a pink finish with custom cancer awareness seals, lapel pins and commendation bars.
As part of this initiative, Blackinton donates 10 percent of sales equally to Gloria Gemma Breast Cancer Resource Foundation and The Firefighter Cancer Support Network. Since launching the program in 2012, over $6,000 has been donated.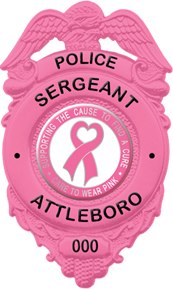 Badges and insignia range from $8 to $60.