10 cool search-and-rescue tools
Whether looking for victims in an urban or wilderness setting, these 10 tools will help get the job done
---
Search-and rescue operations in remote wilderness locations or in urban situations following a natural or man-made disaster require specialized tools and equipment for the first responder.
Here are 10 search-and-rescue tools and technologies that can improve a department's operations and make them safer, more effective and more efficient.
Controlled impact rescue tool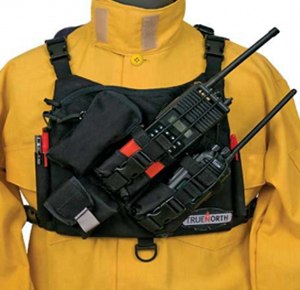 The Controlled Impact Rescue Tool (CIRT) from Raytheon is a portable rapid concrete-breaching technology that enables rescuers to breach through reinforced concrete. Developed in conjunction with the Department of Homeland Security's Science and Technology Directorate, CIRT uses a specially designed impact head that applies a concentrated shock load into the concrete. Multiple impacts on concrete produce substantial localized damage for faster breaching.
Folding backboard
Junkin's Folding Plastic Backboard is a rugged polyethylene folding spine board with 12 large hand holes for easy handling, built in runners, low profile and X-ray translucent. Four patient straps are included.
Its bright yellow color makes it easy to keep track of in low light conditions or heavy vegetation.
Evacuation harness
The PMI's Hasty Harness is a simple and secure evacuation seat that's specifically designed to be lightweight, efficient and easy to put on a patient in distress. The split center piece of the triangle design conforms to the wearer and is surprisingly comfortable, even for an extended ride.
One size fits most patients.
Other Search-and –Rescue Tools
USAR search marking kit
The USAR Search Marking Kit from Wolfpack Gear is designed to carry all of the marking tools you need during a search operation. The main holster pocket holds an upside down marking paint can. Mounted below the holster are two flagging tape dispensers for different color tapes.
Exterior covered pockets accept railroad chalk, lumber crayons, permanent markers or other marking pens. A waterproof zippered pocket is designed to carry glow sticks.
USAR mission backpack
The USAR Mission Back Pack from Wolfpack Gear  performs as a 72-hour deployment pack, holding the minimum required personal clothing and toiletries suggested by most teams. The day pack attaches to and detaches from the main harness with four side release buckles allowing the rescuer to carry the basic essentials to a forward base of operations.
The Mission Back Pack has a foul weather storm flap that covers the pack and stows away, 2,100 cubic inches of space and a bright yellow interior to increase visibility, and an adjustable helmet or rain gear pocket.
Radio chest harness
True North's Radio Chest Harness accommodates any make and model of portable radio. Its ergonomic design combines a rounded shape with True North's proprietary internal suspension, so the harness sits comfortably on the rescuer's chest, without sagging or swinging.
Zippered front pocket holds other essential equipment, such cell phone, GPS, portable weather monitors and others. A hook-and-loop closure front pocket can store spare batteries or other small items and elastic straps keep radios in place when bending over.
Confined space search kit
The Hasty Search Kit has been configured for urban search-and-rescue teams, "enhanced" rescue squads, regional taskforces and SUSAR teams, The Hasty Search Kit comes in one store case and is designed to be transportable and rapidly deployable anywhere disaster strikes.
The kit includes the Delsar LifeDetector Mini system that provides seismic detection of victims and the SearchCam Recon III for visual search and location operations.
Handheld video system
The EntryLink Diversity takes the incident commander safely inside the hot zone. Using a wireless handheld video camera system, the EntryLink Diversity can provide the incident commander with the real-time information necessary to increase entrant's safety, use technical experts from the safety of incident command, and review recorded video to bring other responders up to speed.
The EntryLink Diversity is available in a one-antenna system, or for optimum picture quality, a three-antenna system.
Recovery, search and rescue simulation
Learning to conduct search-and-rescue operations in remote locations just become easier with the Recovery Search & Rescue Simulation from the game developer, Steam.  
The Recovery Search & Rescue Simulation provides a learning environment where students can navigate a large national park landscape full of trees, natural dangers and man-made structures such as forts, statues and memorials.
Portable incident command posts
The Reeves Incident Command Posts provide response personnel with a fully operational rapidly deployable, rugged, climate-controlled, soft-walled shelter from which an incident commander can assign and direct rescue and relief efforts from the field during an emergency or crisis.
The Reeves' Incident Command Posts (available in small, medium and large configurations) use patented Deployable Rapid Assembly Shelters, which deploy in any terrain and can withstand extreme weather and temperature conditions.