Honeywell Batteries impress at FDIC
Neocell batteries significantly lengthen radio operation times
---
By Scott M. Bruner
FireRescue1 Product Editor
In addition to Honeywell First Responder's new product lineups, Global Technology Systems, Inc. , exclusive manufacturer of Honeywell Batteries was also on hand demonstrating some of their top products. Their product lineup included several versions of multi-chemistry chargers, and their NEOCELL batteries.
According to GTS, the lithium polymer NEOCELL is a superior option for performance compared to other batteries, especially in providing extended radio runtimes. In a head-to-head test with a competitor's battery pack, the Honeywell NEOCELL ran for multiple shifts on a single charge and weighed approximately half as much as the nickel battery.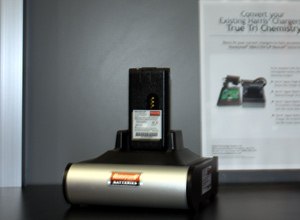 There are currently tens of thousands of NEOCELL battery packs in the field, with major deployments occurring in major cities including Las Vegas to Honolulu. They were also used at the recent Winter Olympic Games in Vancouver.
The San Antonio Police and Fire Departments have operated NEOCELLs for over 1.5 million work shifts — all without a single failure.
"This is breakthrough technology. For the first time, light weight, high performance battery cells can be economically custom designed to fit the available space in a portable device," Global Technology Systems chairman Larry Murray said. "We can achieve these extraordinary run times by packing more of our proprietary chemical energy into the available space, and using our power management technology. It is also important that these new cells are safe and environmentally friendly."
The HMA2014-LiP puts out 7.4 volts and is rated for a minimum of 850 nominal cycles. It is also dimensionally identical to the M/A-Com BKB 191 210/36 battery, but weighs significantly less with 33 percent more capacity.
"Two-way radios require a lot more power these days," Diane Wirtz, the North American sales manager for Global, said. "Nickel batteries don't give adequate run times, and can provide as little as two to four hours of talk time on a single charge… The reason we developed this technology was to allow first responders, instead of having a battery that might be able to cover a single shift, to have reliable power over multiple shifts."
In addition to its performance, GTSis proud of the Honeywell Batteries NEOCELL safety features. In testing, a NEOCELL was pierced by a sharp probe in a safety chamber and continued to behave normally without a violent reaction. It's designed to be an effective and safe power source for public safety personnel.
Some OEM chargers can be retrofitted to accept NEOCELL batteries including Harris' lineup of single bay and multi-bay chargers.
For more information on Honeywell's extensive catalog of batteries and battery chargers, visit www.honeywellbatteries.com.