PRESS RELEASE
New Categories of Portable Pumps to Emerge on the Market
---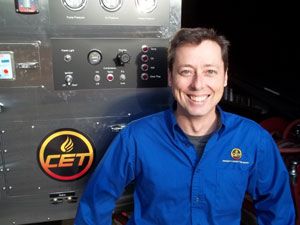 Things are constantly evolving, and in the ultra-competitive market of the fire-fighting industry, the evolution is occurring faster and faster. Investments in R&D are on the increase and leading companies are striving to find optimal environmental solutions. Portable pump manufacturers are facing these same market realities.
Mr. Stephan Thibault, CEO and international representative for C.E.T. Fire Pumps MFG, a century-old company of worldwide renown, remarked: "Be prepared for changes in the market in a relatively short period of time. At present, our manufacturing activities are centered on the production of portable fire pumps in the following categories: high-volume pumps, mid-range pumps, high-pressure pumps, high-pressure volume pumps, de-watering and floating pumps. But our range of products will be expanding. The sophistication of our production plant, combined with recently-developed technological innovations that offer alternatives to fuel engines, will allow us to add new and unique value-added features to our portable pumps, our main product line. This will be a big change.''
Think BIG, Think GREEN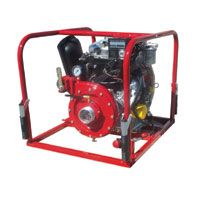 According to Mr. Thibault, a new category of pumps will emerge on the market within the next 2 to 4 years, the non-combustible engine (or less combustible engine) portable pump. Industry leaders will be able to increase their offering of green solutions to their clients without any negative effect on industry requirements in terms of power. These innovations will have a positive impact on the environment, on fire departments' variable costs and, most importantly, on the length of time a pump runs without needing to be refuelled. This major change has a direct impact on many applications in the fire industry. As Stephan Thibault said: "Using alternative fuels is a solution that is an integral part of our development strategy because it's simply the best thing we can do to add value to our product. At this point in time, pumps manufactured around the world are fulfilling all fire department needs from a technical standpoint. Today's pumps are reliable and adapted to a range of specific tasks, but the time has come to reduce their fuel consumption and make them more economical for the end user. To achieve this, we need to invest in durable and eco-friendly features. Decreasing costs while respecting the environment is our objective at C.E.T. Fire Pumps MFG."
Other Trends in the Pump Market
Our engineers are still working hard to optimize the portable fire pump. Today, their main goal is to find ways to reduce pump weight without altering the reliability and longevity of the product. In addition, experts believe that the market for floating pumps will increase and that water transfer solutions will reach new levels of expertise in the upcoming years.