PRESS RELEASE
Waterous Introduces Endurance™ Line of Cutting Edge Fire Pumps
---
Exclusive Pump-Transmission Package helps OEM's meet 2010 weight requirements
use if there is a picture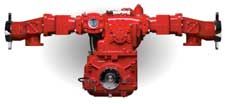 end picture
South St. Paul, Minn.,  – The Waterous family of fire pumps is expanding. The new Endurance™ line of mid-ship mounted, single-stage, fully-manifolded fire pumps are a smaller, lightweight apparatus powered by a cooler-running transmission with increased shifting performance.

"The Endurance™ has been adjusted to meet the needs of the fire service as well as EPA regulations," said Steve Toren, director of sales and marketing. "We removed about 90 lbs. of non-critical mass from our CS/CSU pumps to create the Endurance™ line, which will help OEMs meet the forthcoming weight requirements of 2010."

As well as less overall mass, the Endurance™ line features a new aluminum transmission, the C20, which runs at 12% cooler temperatures, uses 35% less lubricant and weighs 31 lbs. less than the Waterous C10 transmission. The transmission additionally shifts with increased performance resulting from a reduction in non-critical parts and technical upgrades.

Available in three models to suit the needs of any fire department, the Endurance™ line features the CSC20, S101 and CSX units.

CSC20 - Capacities ranging from 750 to 2250 GPM (2850 to 8550 L/min) at 150 PSI (10 bar)

S101 - "Ram Horn" style intake with capacities up to 2000 GPM (7570 L/min) at 150 PSI (10 bar)

CXS - "Ram Horn" style intake with capacities up to 1500 GPM (5700 L/min) at 150 PSI (10.3 bar)

The easy-to-operate Endurance™ pumps feature a single impeller, offer streamlined operations, and come with an industry exclusive five-year warranty.
For more information about Waterous products and services, visit www.waterousco.com or call 651-450-5000.

About Waterous
Revolutionizing firefighting since 1886, Waterous has been manufacturing the most reliable, performance-enhancing pumps, power take-offs, valves and hydrants the fire service industry has to offer. Based out of South St. Paul, Minnesota, Waterous manufactures its complete product line in the USA.