Get Ready to Chill in '09
---

 Download this article
 FireRescue1's Year in Review 2008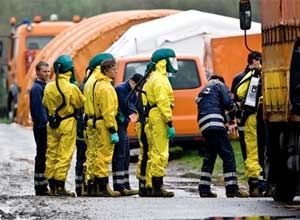 AP Photo/Lars Skaaning
Health officials work to contain an outbreak of bird flu on a farm in Stenstrup, Denmark, in April.
The year began with the usual repertoire of promised doom and gloom for EMS. There was the imminent horrific carnage of an inevitable bird flu pandemic, terrorist attacks lurking around every corner (using, of course, nerve agents dispersed from rogue ambulances acquired on eBay) and MRSA outbreaks leading to wholesale closings of schools and firehouses.

Then there were the fuel costs so high that EMS services would go belly-up, and perhaps more dreaded than birds or terrorists, a dreaded moratorium on prehospital endotracheal intubation was imminent. As we toast another year gone by, it's like déjà vu all over again: we truly wonder what weather forecaster made these hair-brained predictions.
As we respond into another year, we can thank God we're not birds; millions of our fine feathered friends continue to perish from avian flu. For them, the pandemic continues. We need to keep a watchful eye — ignore the doom and gloom, gonna-happen-any-day predictions — but let's be realists. History does repeat itself — pandemics of the past have lessons for today. We have much to learn. Recent events in India are a chilling reminder that the world has changed forever; letting down our guard will never be an option. This past year proved that when you mix media and medicine, opportunity for unscrupulous profiteering abounds.
Infection control foundations
The obscene hype over MRSA led a few of us, and most of the general public, to all kinds of hysteria. People forgot that hand washing and equipment decon are the foundations of infection control. That's right, a bar of soap or bottle of alcohol hand gel does more, for less money, than any "kill-all" chemical, sanitizing gizmo, or pricey "super-bug" resistant PPE. And let's tell the media to stop yankin' our chains about intubation. With continuous waveform capnography, there is absolutely, positively no excuse under the sun to not notice a misplaced tube. Problem solved, if we use it all the time, every time.
Speaking of solving problems, we've got some unfinished business. Unlike Congress, you might actually have noticed that the Ryan White law vanished. That needs fixing. While you're poking your head out the window in 2009, scope out the new National Educational Standards for EMS and accompanying Educational Guidelines. EMS education is changing once again.
Proactive folks will be a step ahead of the game. Take a look at NFPA 1584 as well. This document, the Standard on the Rehabilitation Process for Members During Emergency Operations and Training Exercises, directs every fire and EMS service to establish SOGs for member rehab that include transport-capable EMS at incident scenes and hands-on-training drills. It took effect in January, and odds are your local fire department and ambulance agencies are just ramping up to comply.
Find anything good from Santa under the tree? Hopefully, you've got some lime yellow apparel to comply with the federal safety vest rule. If your feet are on the street, the vest should be on your chest. How about a cyanide antidote? The next cardiac arrest you pull out of a fully involved structure fire won't die of smoke inhalation. It's the cyanide in the smoke that kills people, and it'll knock off more than 4,000 civilians and a dozen firefighters in the United States during 2009.
Half of those folks could be resuscitated on-scene with hydroxocobalamin; just ask the Paris Fire Brigade. Better hope you have it. And how about CO? Carbon monoxide is the leading cause of poisoning worldwide, yet we miss up to half of all cases. The next patient you see with a headache or flu-like illness, or the next firefighter you rehab, should be screened. No doubt you have access to a pulse CO-oximeter to measure your patient's CO. If we don't start measuring every patient on every call, every firefighter, and every occupant in buildings with CO detector activations, we're on target to miss another 50,000 cases of CO poisoning in 2009.
Physiocontrol gets it — they've built CO-oximetry into their soon to be released LifePak 15®. Running quietly in the background, it alarms when it sees a CO poisoned patient; this is going to save lives. And speaking of Physio, let me kibosh rumors of its demise. I've seen firsthand the incredible work these folks have done to get themselves back in business. When they come outta the gate, they are going to be a formidable competitor, just like the old days.
Rolling into 2009, don't smooch with birds, stay alert, wash your hands, use capnography, think CO and CN, wear your vest, and pay attention to national EMS happenings. Be grateful when gas prices drop below a dollar a gallon, and get ready to chill. Hypothermia is gonna be the buzz this year and global warming has nothing to do with it. Stay safe!