How Indianapolis FD avoided an expensive upgrade and gained more reliable connectivity
Replacing an outdated proprietary system not only saved money, it improved speed, reliability and mobility
---
Sponsored by Cradlepoint
By Laura Neitzel, FireRescue1 BrandFocus Staff
When the Indianapolis Fire Department was facing a multimillion-dollar upgrade to its existing proprietary connectivity platform, they chose to look for a more affordable solution. They decided they could put cellular cards in all the fire apparatus for the next 20 years to cover that expense, according to IFD Battalion Chief Dale Rolfson.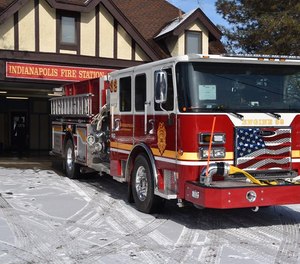 Only IFD's move to AirCards – basically a wireless modem that connected their mobile devices to the internet through a cellular network – wasn't sufficient to get reliable connectivity.
"A big reason for that was the amount of metal in a fire truck, especially the ladder trucks," said Rolfson. "We had several stations that, as soon as we closed the bay doors in the firehouse, they had no signal at all. So obviously, they're not receiving the run data in a timely manner. They would have to literally pull out onto the driveway of the fire station before they would receive any data."
Clearly, the AirCards weren't a viable solution, so Rolfson and his team, with assistance from one of their cellular providers, put another option – a rugged LTE router from Cradlepoint – to the test.
"I threw the antenna in the dash of a vehicle at one of the firehouses where we couldn't even receive a signal in the firehouse and immediately had full strength, connectivity, great speeds," said Rolfson. "Receiving data was not an issue at all. By far, our best connectivity."
The successful test with Cradlepoint routers convinced IFD to install them in roughly 175 vehicles, so far.
Benefits beyond connectivity
Connectivity to get data to the apparatus for receiving emergency response information is the prime reason IFD chose Cradlepoint, says Rolfson, but another benefit was the availability of NetCloud Manager, a subscription-based wireless WAN software platform that facilitates deployment and network configuration and that also gives visibility into network health, usage and security.
"It makes it easy for us to manage devices and know their location. Now, we can check the speed of the modems and how they've been performing, whether or not they've had any signal drops," said Rolfson. "It's been a wonderful tool and has really made responding to emergencies faster, which is the end game."
NetCloud Manager is also customizable, and IFD has configured it with custom fields to provide information about the computer type in each vehicle and the asset tag number associated with the vehicle number. The custom fields are configured to report how long a vehicle has been connected so Rolfson can optimize device placement according to usage.
"If it's been connected for 26 weeks, then we're in good shape," said Rolfson. "If I see that it's been 26 weeks since a modem has been connected, then we need to re-evaluate the use of that particular device. Maybe we need to go in and remove it and put it somewhere where it's actually going to be used."
IFD started out with the earlier model Cradlepoint IBR1100 routers, but the department has since upgraded most of its modems to the Cradlepoint IBR900 to be FirstNet Ready.
For redundancy, IFD uses AT&T FirstNet SIM cards in half of the fleet routers and Verizon in the other half.
"In the event that one network goes down or a tornado comes through a particular area and takes out one of the towers, the other one has service," said Rolfson. "At least some of our apparatus will have connectivity, or if they've got a backup SIM, they'll have connectivity on their device."
Passing a real-world test
Being prepared for any emergency is a mantra in the fire service. IFD was able to test the value of having a redundant system recently. One of their firehouses lost connectivity due to a fiber-optic cable being accidentally cut because of a nearby construction project. During the month it took for the cable to be repaired, IFD fashioned a mobile network so the fire station could stay connected.
"We actually call it the IFD football, where we put our Cradlepoint in a little Pelican case or suitcase and put an antenna on it," said Rolfson. "We plugged it into the wall, connected it to our network equipment and gave them network connectivity. This not only allowed the firefighters to have internet connectivity to complete their daily reports, check their email and do their classroom studies, but it also gave us the firehouse alerting system, because that would come across the network as well."
IFD uses the "football" for emergency connectivity in the field and in areas where the Wi-Fi signal can be lost. Between the Cradlepoint technology and the antenna, IFD can get a quarter mile boost to the signal, says Rolfson. The battery backup allows it to run for 24 hours without electricity, giving IFD connectivity to their essential application, even in remote locations.
"We're able to push data in places that you can't make a cellphone call," he said.
For Rolfson, the biggest benefit to switching to the Cradlepoint routers from their old provider has been the fast and reliable connectivity.
"It gives us the ability to respond to an emergency and have the confidence that the data is going to show up," he said.
Visit Cradlepoint for more information.
Read Next: Drone vs. ambulance: How one Canadian paramedic service went beyond to deliver critical medical technology
Request information from Cradlepoint
Thank You!