Is your agency part of a smart city? How public safety can benefit
5G connectivity plays an important role in areas where wires aren't available
---
Sponsored by Cradlepoint
By FireRescue1 BrandFocus Staff
When it comes to public safety, a 'smart city' is a municipality that harnesses the power of information technology, devices like cameras and electronic sensors, and broadband communications to improve situational awareness and responsiveness for their agencies and enhance decision-making by their commanders. On a broader scale, a smart city can use this same infrastructure to monitor remote home utility readers as well as utility processing/production facilities. Smart city technology can also manage traffic lights for faster traffic flows and better inform citizens through digital signage and wireless messaging.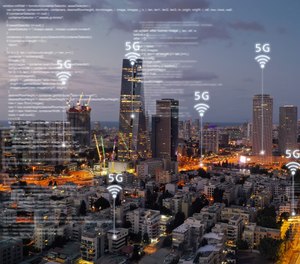 One such smart city that exists today is Peachtree Corners, Georgia, home to roughly 45,000 people. Working with T-Mobile and its 5G wireless broadband networks, Peachtree Corners has launched initiatives such as a three-mile test and demo lane to test autonomous electric multipassenger vehicles. It is also testing cellular vehicle-to-everything, a connected mobility platform that allows vehicles to detect and respond to other vehicles, cyclists and pedestrians. The city is also exploring a new application for an underground delivery system using vacuum tubes.
Then there's traffic management. Peachtree Corners wants to monitor and manage the flow of vehicles throughout its jurisdiction. To make this happen, the city needed to establish broadband connections between its operations center and its cameras in traffic intersections and parking structures, including open-air and third-level locations. However, since these locations are in already built structures, creating broadband connectivity by running fiber-optic cables to these locations was simply too expensive and time-consuming.
This is why Peachtree Corners turned to Cradlepoint for help. Cradlepoint builds ruggedized 5G wireless routers for public safety applications and makes accessing them affordable through the company's NetCloud Service management solution.
Used in tandem, Cradlepoint has been able to connect Peachtree Corners' high-definition cameras over a wireless WAN (WWAN). This high-bandwidth, low-latency WWAN – whose operations are made more efficient through the use of artificial intelligence and machine learning applications – helps this smart city make better, faster traffic management decisions to support the best deployment of public safety resources. And it's not just police, fire and EMS who benefit.
"With our Cradlepoint and 5G technology in place, we're able to notify residents of parking congestion before they arrive, and also monitor dwell times in electric vehicle charging stations and pickup and delivery parking," said Brandon Branham, Peachtree Corners' chief technology officer and assistant city manager. "This provides an extra layer of knowledge that empowers our public safety employees and helps our residents feel safe and informed."
HOW PEACHTREE CORNERS DID IT
To connect its HD traffic cameras to its WWAN, Peachtree Corners has mounted Cradlepoint R1900 5G ruggedized routers equipped with Cradlepoint NetCloud Service inside traffic cabinets at intersections and parking garages/lots. City personnel have also mounted T-Mobile millimeter-wave antennas to masts that are connected to the cabinets and their Cradlepoint 5G routers. At each location, the traffic cabinet protects the cameras' power supplies as well.
"Every single intersection in a city has traffic cabinets, which makes them readily available for housing Cradlepoint 5G routers," said Linden Willis-Kilgroe, Cradlepoint's senior product marketing manager. "This gives you a huge grid of potentially smart intersections where you can track traffic flow, including making lights green for police cars, fire trucks and ambulances. This can improve public safety's response times during calls, which can make all the difference in saving lives and managing difficult situations."
The decision to use Cradlepoint R1900 5G ruggedized routers came after Peachtree Corners tested them at the Curiosity Lab, a local laboratory that works with companies to develop, test, deploy and demonstrate their technologies.
"After conducting tests in the Curiosity Lab and taking the environmental factors into consideration, we knew the Cradlepoint R1900 was going to be the highest performer out in the field," Branham said.
The second enabling factor for this 5G WWAN traffic management system is Cradlepoint NetCloud Service. This is a cloud management and monitoring platform provided by Cradlepoint on a subscription basis. It delivers comprehensive cloud management, customer support, lifecycle warranty, training and purpose-built routers for clients all in one convenient package. By selecting NetCloud Service, Peachtree Corners sped up the deployment of its 5G WWAN while simplifying its operations and maintenance once in place.
NOT JUST FOR TRAFFIC MANAGEMENT
The speed and reliability of Cradlepoint's ruggedized 5G routers, the coverage of 5G broadband networks offered by carriers such as T-Mobile, and the intelligent system management provided by NetCloud Service make these products ideal for a wide range of smart city applications. These can include CCTV video and sound surveillance systems in parks and other public properties, where the cost of trenching and connecting fiber-optic cables is simply out of reach.
WWANs can also be used to connect a smart city's parking meters to provide city managers with real-time data as to their usage and revenue generation. This usage data can also be employed to inform motorists about available parking in real time, reducing traffic (and driver frustration) on streets where metered parking spaces are already fully occupied. This same data source can tell motorists where open metered spaces remain available, which can also aid traffic flow while boosting revenue generation.
The use cases for smart city technology are truly endless: "Waste removal trucks equipped with license plate readers and connected back to the city via a WWAN could scan every vehicle they pass, improving the detection of stolen, missing and wanted cars," said Robin Manke-Cassidy, Cradlepoint's director of solution marketing.
In a smart city, having every city vehicle equipped with this kind of capability could significantly improve public safety's situational awareness in many different ways to the benefit of public safety officers, city operations and the general public.
Visit Cradlepoint for more information.
Read next: Bridging the location gap: How public safety can ensure reliable wireless communication
Request information from Cradlepoint
Thank You!