Learning from stress and trauma to be better first responders
The FirstNet Health and Wellness Coalition supports initiatives that turn post-traumatic stress into growth
---
This article originally appeared in "What firefighters want in 2023." Download the full report here for an in-depth analysis of the State of the Industry survey, including why the fire service is experiencing a perfect storm of stress – and what can be done about it.
Sponsored by FirstNet, Built with AT&T
By Laura Neitzel, FireRescue1 BrandFocus Staff
Being a first responder ranks as one of the most stressful – and rewarding – professions an individual can undertake. But the often-death-defying demands of the job and the horrible sights and smells first responders encounter can take a toll on the health and well-being of the strong, honorable and altruistic individuals who choose difficult professions serving others.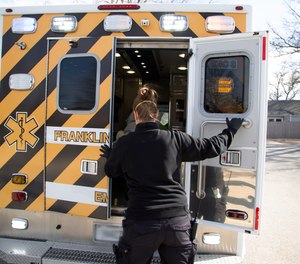 Although the job of a first responder has always been tough, the dangers and challenges are often exacerbated by other factors like low pay, long hours, increased responsibilities, lack of career advancement, and a general sense that the public has lost esteem for real-life heroes. During and after the COVID-19 pandemic, these factors have continued to escalate to the point that many are considering leaving the profession altogether.
"Emergency responders often must set aside their family's needs, money worries, work-life balance, health issues and other priorities to serve their communities," wrote Dr. Anna Fitch Courie, director of responder wellness, FirstNet Program at AT&T, and Josh Goldberg, CEO of Boulder Crest Foundation for Post-traumatic Growth, in "We must embrace struggle in order to grow," adding, "The traumas they face are not for the faint of heart. But it's often the compounding effect of these stressors that creates the perfect storm of mental health issues for responders."
EXPANDED SCOPE OF WORK – AND STRESS
A recent survey of over 2,100 active firefighters conducted by FireRescue1 found that a whopping 87% of respondents believe that the scope of the job has changed since they began working in the fire service. Further, 48% affirmed that the expanded scope of the job has negatively impacted their personal health and well-being.
Similarly, in a study of EMS professionals cited by Courie and Goldberg, 69% of respondents said they never get a chance to recover from one event before being called to the next. Respondents to the FireRescue1 survey commented on similar issues in the fire service – back-to-back calls, long shifts and not enough time to relax and recover.
This sentiment reflects a growing crisis, not only for the first responders who soldier in professions that are essential to a healthy, functioning society, but also for the communities that rely on them. We must ensure that first responders receive the support they need to not only survive on the fireground but also thrive in their personal lives so they can continue providing the vital services on which we all depend.
PROFESSIONAL DangerS, PERSONAL PAINS
Danger is an inherent part of the job and, not surprisingly, an aspect that most are willing to take on with little hesitation. But danger on the fireground is heightened due to other factors that place firefighters under additional stress that can affect their performance and overall well-being.
In the What Firefighters Want survey, less than 11% of respondents selected fireground dangers as one of their top three least-satisfying aspects of working in the fire service. Poor agency leadership, staffing challenges and personal health risks topped the list of least-satisfying aspects of the job. The survey also revealed some alarming statistics related to firefighter stressors:
Alarmingly, 54% of respondents reported that, due to staffing challenges, they believe their personal safety is at greater risk.
50% described their stress level as negatively impacting their ability to engage in non-fire department activities such as hobbies, vacations and time with friends.
47% indicated that stress is negatively impacting relationships with their families.
67% say their stress level negatively impacts other aspects of their health, like ability to sleep and time to exercise.
Self-managing stress
Almost 70% of respondents have tried to remedy their own stress in healthy ways by focusing on sleep, nutrition and/or exercise to improve their overall health. Over 50% sought to reduce stress by spending more time with friends or family.
Respondent comments indicate that department leaders can help firefighters cope with stress by providing resources like on-duty fitness equipment and lighter and more predictable schedules so they can do the things that help them relax when not on duty.
The good news is that over 50% of respondents report that their departments offer "useful behavioral health support services" like an EAP. Almost 45% report that their departments offer health and wellness services, ranging from a therapy dog to EAPs to wellness apps.
However, it's uncertain whether the EAPs available are really equipped to deal with the unique needs of first responders and whether the services available help them cope with more exacerbated conditions like post-traumatic stress disorder (PTSD). After all, only 5% of respondents sought to manage their stress by accessing non-departmental community resources.
Clearly there is a need for stress-reduction and mental health and wellness geared to the specific needs of first responders, but many first responders are reluctant to seek help until the situation is untenable.
TURNING TRAUMA INTO GROWTH
FireRescue1's "What Firefighters Want" survey shows what those in the fire service already know: Firefighters (and, indeed, all first responders) are under unprecedented levels of stress. While some of the situations that contribute to firefighter stress and trauma are unavoidable in the profession, the outcome of trauma exposure can be negative or positive.
People generally associate trauma with PTSD, with symptoms that may include flashbacks, nightmares, severe anxiety, as well as uncontrollable thoughts about the event, says Sara Jahnke, PhD, a scientist with over a decade's worth of research on firefighter health. But as she writes, it is possible to turn post-traumatic stress into growth:
"While it is easy to focus on the negative impact of the experience, [traumatic] events …  can also have a positive impact on firefighters in the long run. Specifically, events like this can lead to post-traumatic growth (PTG), which is characterized by beneficial improvements in thoughts and emotions – or personal growth – in the wake of a traumatic experience."
Courie and Goldberg agree, writing in "Transformed by Trauma: Stories of Post-traumatic Growth":
"Despite the trauma and distress emergency responders and military members experience, they also experience significant psychological, relational and spiritual growth as a result of the service they provide, the research shows. These growth areas can become protective factors throughout their careers and can be nurtured."
NURTURING POST-TRAUMATIC GROWTH
FirstNet, Built with AT&T is helping to nurture post-traumatic growth and support the health and wellness of first responders through the FirstNet Health and Wellness Coalition (FNHWC), established in 2020.
The FNHWC partners with organizations like Boulder Crest to provide mental health and wellness services to first responders and veterans to change post-traumatic stress into post-traumatic growth. Boulder Crest is a pioneer in the science of post-traumatic growth and, with the support of FirstNet, launched the First Responder Initiative that brings its "Struggle Well Training" into first responder culture.
At the core of Struggle Well Training are four key principles:
Balancing the narrative: Enabling first responders to move their focus beyond disorder, diagnosis, dysfunction and diminishment to a conversation about growing through struggle (post-traumatic growth).
Normalizing struggle: First responders will experience stress. The question is how they will deal with the struggle. This training principle seeks to normalize the impact of struggle on the first responder lifestyle to lift the stigma and encourage struggling responders to seek help.
Integrating wellness and PTG into training: This principle is focused on integrating wellness into the very fabric of first responder organizations, as much as any critical skills training.
Institutionalizing wellness and PTG training: This principle seeks to inculcate wellness and post-traumatic growth throughout a first responder's career and their transition out of the workforce.
FirstNet, Built with AT&T recognizes that public safety has a tremendous impact on the safety and well-being of our local communities, but often at the expense of responders who shoulder the burden and sacrifice their own. That's why it has committed resources to helping first responders make mental health a priority. With the support of partners like Boulder Crest and forward-thinking fire service leaders, first responders can avail themselves of the tools they need to cope, grow and thrive in their very necessary chosen careers.
Learn more about FirstNet Health and Wellness Coalition.
Read next: Firefighters never give up. Their technology shouldn't either

Request information from FirstNet Built with AT&T
Thank You!