Motorola fire radio offers advantages in rural settings
APX 6000XE designed specifically for departments outside of large city environments
---
By Ken Robinson
FireRescue1 Associate Editor
The latest glove-friendly, rugged radio from Motorola is designed to give firefighters a comfortable, lightweight communications device that has extra advantages in a rural setting.
The single-band APX 6000XE radio — which was on display at FDIC in Indianapolis — was designed specifically for departments outside of large city environments, to provide a simplified alternative to multi-band radio models.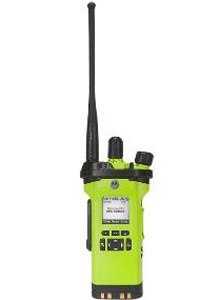 "Larger cities may need interoperability, but smaller rural areas may want a tuned-down version," Motorola Senior Product Planner Matt Busa said.
In addition to fewer bands, the handheld radio was also designed to give firefighters a better handle than other radios on the market.
"It's sized down from the APX 7000XE to be easier in firefighters' hands and improves ergonomics extremely," Busa said.
The radio also features the largest emergency button on the market, a slightly smaller speaker and water-resistant features.
"If it becomes submerged, water will come out easily after it's removed," Busa said.
The APX 6000XE also boasts an extreme audio profile that reduces background noise and improves voice clarity.
The radio comes in three models with different display and navigation configurations.
Model 1 has a full LCD top display, while Model 2 has a larger front display with navigation keys in addition to the top display.
Model 3 has both displays plus a more extensive keypad that can come in handy with features like text messaging, which comes optional.
Though the radios are designed to better cater to rural areas, Motorola points out that they are also useful in urban environments where a single-band radio is more desirable than a multi-band radio.
"We've had extremely positive feedback from firefighters in the nation's capital who found the easy navigation useful in a metropolitan environment," Busa said.
The APX 6000XE will begin shipping in the third business quarter of 2011.
Motorola is one of the world's biggest communications companies, offering a range of products from broadband communications infrastructure, enterprise mobility and public safety solutions to high-definition video and mobile devices. For more details on the APX 6000XE, visit www.motorolasolutions.com.

Request product info from top Fire Communications companies
Thank You!