Firefighters never give up. Their technology shouldn't either
During wildfire season and throughout the year, FirstNet ensures communications and connection to critical systems are reliable when they matter most
---
Reliable communication is not just important in the fire service. It is essential.
Imagine a wildland firefighter trapped on a flaming ridge. Or another running out of breathable air in thick smoke. A spotter unable to notify fire crews that a raging wildfire is speeding toward them. What if that firefighter is unable to call for help or be located?
Incident commanders are responsible for the safety of their crews, and that includes ensuring their members can effectively communicate and interact on scene, whether a structure fire or a massive wildfire.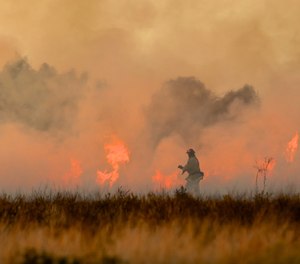 According to FireRescue1's "What Firefighters Want" survey, 60% of respondents reported that their incident commander uses the command-related technology at their disposal. That leaves 40% who are not confident that their ICs are taking advantage of the command technologies that are essential for effective communications and fireground safety.
FirstNet, Built with AT&T was created to provide first responders reliable communication. Today, FirstNet helps ensure firefighters and other first responders get the priority, coverage and interoperability they need without sacrificing choice in the devices and apps they require to get the job done safely.
Here are four critical situations where FirstNet ensures the fire service stays in communication.
Present on the front lines
When spot fires from a prescribed burn roared into a massive wildfire in Northern New Mexico, FirstNet ensured public safety agencies and first responders had the critical communications they needed to coordinate the incident response. FirstNet deployed a dedicated Satellite Cell on Light Truck (SatCOLT) from the FirstNet fleet to the forward operating base in Mora for the Calf Canyon-Hermit's Peak fire so responders from local, state and federal agencies battling the fire could communicate with each other with speed and reliability.
FirstNet also deployed a second SatCOLT to the remote incident command post near the Cerro Pelado fire line in the Jemez Mountains so officials could coordinate their incident response.
FirstNet liaisons were also on site at Incident Command in Las Vegas to distribute FirstNet Ready devices and hot spots to first responders heading to the front lines.
CONNECTING FIREFIGHTERS TO APPS THAT SAVE LIVES
From apps that give fire crews critical information like maps and caution notes to ambulance crews transmitting 12-lead EKG data to a receiving hospital, every vehicle in the fleet in the city of Leon Valley, Texas uses a computer needing internet service or network capabilities. Leon Valley relies on FirstNet to remain connected and ensure steady communications with dispatch, other fire crews and mutual aid partners and others.
Beyond communication with partners, FirstNet also ensures communication between systems. In Leon Valley, the primary apparatus has a computer that monitors the air packs each firefighter wears while battling fires. Allowing incident commanders to monitor the volume and remaining time a firefighter has breathable air in real time is critical to ensuring firefighter safety.
"If we can't talk, it's hard for us to let dispatchers or other personnel know what our needs are, what's currently happening," said Michael Naughton, fire chief for the city of Leon Valley. "If we have a slow-down in those communications, that stops us from bringing in the appropriate assets. It delays our response. Every minute [of] delay in communication can mean another life or property loss, whether that's a big fire or a stranded vehicle in a flood."
All key personnel in Leon Valley who are required to respond to the Emergency Operations Center are equipped with FirstNet phones to ensure communications are always on and reliable.
STAYING IN TOUCH
When communications fail, mistakes can happen. When crews are battling a wildland fire in a remote, rugged area, having access to constant, reliable and robust communications is essential. But terrain, weather conditions, network traffic and other factors can sometimes wreak havoc with communications.
That's what happened on the East Troublesome Fire ─ a human-caused fire in western Colorado that grew at an unprecedented rate, incinerating 120,000 acres in a single day. When communications went down, FirstNet deployed a SatCoLTs to the site within just a few hours. Mobile cell sites like SatCoLTs and other deployables like Compact Rapid Deployables and communications vehicles provide similar capabilities and connectivity as a cell tower, but link FirstNet via satellite without the need for commercial power availability. Deployables, including SatCoLTs, are available through FirstNet on approved request and at no extra charge, 24/7.
Deployables are not only useful for the immediate fire response. Having a line of communication to resources on the home front is essential in a career known to take a toll on the mental health and physical wellness of those who serve. 
With extended drought and extreme heat becoming more prevalent with climate change, wildfires are becoming more widespread, frequent and unpredictable. The fire seasons start earlier and last longer, meaning wildland firefighters are away from home for even longer.
"Communication is huge with our family. We need the family support. We need to hear the voices of our loved ones back home," said Brian Faith, wildland coordinator for the fire department in Grand Lake County, Colorado. "That key factor is what makes us go the long distance of being away from home."
FirstNet helps ensure firefighters on the front lines have the communications they need to do the job and, at the end of the shift, let loved ones back home know they are safe.
rapid deployment, literally anywhere
Since 2021, Yosemite National Park has seen 44 naturally occurring and 11 human-caused fires. In July 2022, firefighters battled the Oak Fire that blazed through tinder-dry forests. An earlier fire, 80% contained at the time, threatened the famous ancient grove of sequoias in the southernmost part of the park.
With fires popping up at different locations throughout Yosemite, the U.S. Forest Service has deployed three of FirstNet's Rapid All-Terrain Towers (RATTs) throughout the park to locate hot spots, survey damage and assist search and rescue.
Each RATT has a telescopic mast that can elevate devices like thermal imaging cameras up to 50 feet high, overcoming the limitations of many drones, like battery life, flying in rain and no-fly zones. RATTs can be hitch-mounted on a vehicle and deployed within minutes, making them especially useful in remote areas on uneven terrain where rapid, mobile deployment is critical.
In Yosemite, FirstNet has deployed three RATTs, hitched to three SUVs, to stay on top of fires wherever they occur.
COMMUNCATIONS ALWAYS MATTER
Communication is a lifeline in the fire service.
Whether on a mobile phone, tablet, computer or smartwatch, FirstNet ensures critical communications are flowing because a missed communication can compound the danger to first responders, property and the public. The first nationwide network dedicated to public safety, along with FirstNet-ready devices and apps, keeps firefighters and other first responders connected to critical systems and information they need to stay situationally aware in a rapidly changing environment.
This article originally appeared in What Firefighters Want: Fireground Leadership.

Request information from FirstNet Built with AT&T
Thank You!