How to buy FirstNet devices (eBook)
Download this FireRescue1 FirstNet devices buying guide to learn key steps for product selection, purchasing and implementation
---
To download your free copy of "How to buy FirstNet devices (eBook)" Buying Guide from Fire Chief, fill out this form.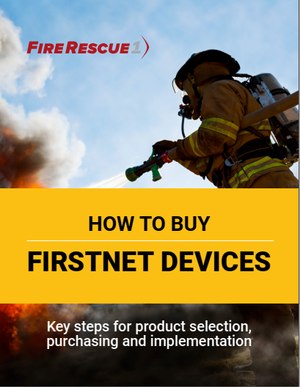 Have you ever worked a large sporting event, community festival or concert? Crowds flock in by the thousands, and now your infrastructure is over-crowded. Have you tried calling in a report during such an event? No signal, right? 
The First Responder Network Authority, commonly known as FirstNet, built with AT&T, has the solution. It's all about priority, coverage and interoperability. 
FirstNet is an independent authority within the U.S. Department of Commerce, authorized by Congress in 2012, to develop, build and operate a nationwide, broadband network designed specifically for emergency services. Its focus is on providing, enabling and progressing effective communication links both internally and externally among dispatch/communications centers, fire departments, EMS agencies, law enforcement and emergency management. 
While much of its drive has been gained from the spotlight surrounding natural disasters, large-scale events and the limitation of rural communications systems, FirstNet is also driven to solve the communications system – infrastructure – challenges of day-to-day communications for all emergency services, regardless of location. 
Emergency services shouldn't have to compete with the rest of the population in order to talk on the phone, share information or gather information via data streaming, and FirstNet agrees. 
Included in this guide: 
Key considerations before buying
Implementation considerations
Questions to ask vendors
Company directory
To download your free copy of "How to Buy FirstNet Devices" Buying Guide from FireRescue1, fill out this form.