How to integrate video tools into fireground training and operations
Video tools help firefighters visualize the fireground and ensure consistent messaging during training
---
As the saying goes "information is power" – and real-time information can be even more valuable.
Video is now one of the most essential tools in the fire service. With the ability to stream recorded videos or even live demonstrations, fire department leaders have access to a massive amount of information, all of which can be shared among members or with an even larger audience for regional training or other events. Additionally, they can use video tools on the fireground to help make informed decisions and fully visualize the incident scene.
Here we'll summarize some of the ways that firefighters can integrate video into fireground training and operations.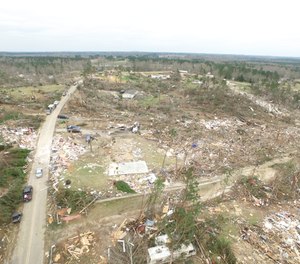 Video in training
With the newest video equipment that is now readily available to fire departments, many instructors have taken advantage of it being easy to develop high-quality training videos. Training sessions can be recorded and emailed to department members, posted to department websites or even posted on social media to share with other organizations. The audience is essentially unlimited.
Video can also deliver a detailed and consistent training message to ensure the same communication is conveyed to all department members. Often when training must be taught to multiple companies, the skill may not be demonstrated the exact same way. Such inconsistencies in training lead to inconsistencies on the scene. Video allows for a singular message – one the end-user can replay as many times as required to master the skill.
If member development is more theory-based, such as management strategies or evaluating organizational performance, an instructor may elect to address the intended audience with a prerecorded video lecture, which can be sent out to members, again providing the same consistent message.
Video during fireground operations
Using video during a training exercise simulation is one great application; another is the visualization of the fireground to help incident commanders (ICs) make informed decisions. Smart decision-making equates to improved efficiency and enhanced safety.
As an IC assigns different divisions at an emergency event, and supervisors to manage those divisions, why not give them the tools to stream live video back to the command post?
Envision being an IC positioned on the A side of the structure. Adding video to your IC toolbox allows you to see all sides of the building without having to physically be there yourself. While crews can report back information, as the saying goes, a picture is worth a thousand words – and a video must be worth a million. You can even move the camera to show particular areas or engage in dialogue with a division supervisor to determine next steps. Beyond face-to-face communication, which is often impossible on the fireground, video is the next best thing.
Video is also a great option for one of our newest tech tools – fire service drones.
A little over a year ago, I served as the operations section chief during a tornado that had traveled across state lines, leaving a large amount of damage. We were tasked with the search and rescue of a small area of the county, so we quickly established four divisions and went to work.
We were initially limited to mapping by hand to track our progress; however, the next day, we were allowed access to a drone and pilot. This made a significant difference in our ability to complete damage assessment across the divisions. The video from the drone camera captured so much detail that we were able to track our crews and their progress, then decide where they would move next.
We were also able to partner with the county's geographic information systems (GIS) program to produce map overlays that we would compare to the drone footage to learn where structures had been and develop updated search grids. The entire search and rescue operation and the videoed documentation was made much easier by the drone footage.
Drone technology has so many benefits that can be applied to emergency operations. In wildland firefighting, drones can be used to view the topography of the area and then track fire movement. In the search and rescue arena, drones with infrared thermal imaging equipment can be used to search for a lost child or an Alzheimer's patient day – and all of it can be done day or night. The resulting videos can be saved for future reference, too.
Time to get creative
Videos can be a huge asset to departments through not only delivering training, but also any form of communication within the organization. Further, the ways to integrate video into fireground operations can be endless; it just needs firefighter creativity.