PRESS RELEASE
3M Scott Fire & Safety introduces a new way to communicate on the fireground
---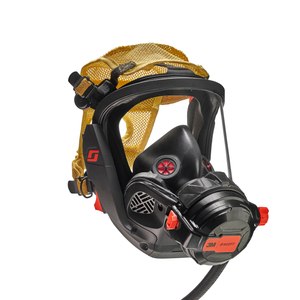 MONROE, N.C. — 3M Scott Fire & Safety, a global leader in respiratory protection and thermal imaging solutions, proudly announces its latest facepiece solution to help firefighters communicate clearly and hear what matters, the 3M Scott Vision C5 Facepiece with Radio Direct Interface.
Designed using a platform approach, the Vision C5 facepiece with radio direct interface incorporates the latest technology to enhance situational intelligence in a customizable solution. Expanding on the 3M Scott Vision C5 Facepiece with E-Z Flo C5 Regulator, the facepiece now includes Bluetooth communications to help address critical communication challenges on the fireground.
"Two of the biggest challenges in fireground operations are communications and accountability," said Gary Silsby, application engineer and firefighter. "Firefighters' ability to communicate clearly over the radio and hear incoming communications is paramount to successful fireground operations."
Utilizing proprietary noise suppression algorithms, in combination with a facepiece-integrated microphone, Bluetooth enabled in-mask communications provide enhanced voice intelligibility during two-way radio communications. An integrated bone conduction headphone assists firefighters with hearing and understanding of incoming radio communications.
"As an industry leader, our role at 3M Scott Fire & Safety is to provide innovative solutions to help improve the safety and accountability of first responders," said John Graves, global product marketer. "Providing a modular facepiece with in-mask communications allows fire departments the flexibility to configure the best solution to meet their needs."
The Vision C5 facepiece with radio direct interface operates with compatible 3M Scott Air-Pak SCBA, as well as compatible two-way radios. A perfect companion to the 3M Scott Air-Pak X3 Pro SCBA, the Vision C5 facepiece was designed to provide enhancements to five key areas – cleanability, comfort, connectivity, communications, and configurability – helping firefighters to see more, hear what matters, and breathe easier.
About 3M Scott Fire & Safety
3M offers a comprehensive, diverse portfolio of personal protective equipment solutions including 3M Scott SCBA, handheld and hands-free thermal imagers, voice communication devices and firefighter accountability solutions. Most notably the 3M Scott Air-Pak SCBA is used by firefighters, military, civil defense and industrial workers around the world. 

Request more info from 3M Scott Fire & Safety
Thank You!