PRESS RELEASE
goTenna Pro supports off-grid communications, situational awareness at PATRIOT South 2020
---
NEW YORK — goTenna Pro, a tactical-grade mobile mesh networking communications system, is supporting off-grid situational awareness during PATRIOT South 2020, a Domestic Operations (DOMOPS) training exercise sponsored by the National Guard Bureau at multiple locations in Mississippi and Georgia.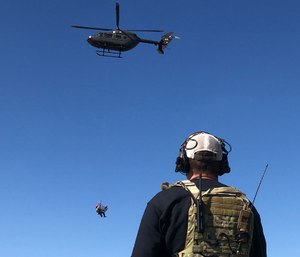 This large-scale DOMOPS exercise is bringing together approximately 1,400 personnel from federal, state, and local agencies to simulate high-stakes scenarios following a Category 5 hurricane making landfall. Training exercises include mass casualty incidents, collapsed structures, survivors stranded by high water, and debris management. 
"During PATRIOT, the focus is practicing the way we would respond to a natural or man-made disaster," said Lt. Col. Roger Brooks IV, PATRIOT South 2020 Director. "We're exercising Department of Defense and emergency management agency plans to build relationships and partnerships within the local community to ease any potential suffering." 
In disaster situations, traditional communications infrastructure is often prone to damage or failure. PATRIOT South participants are simulating comms-denied operations by pairing goTenna Pro X mesh networking radio devices with the Android Team Awareness Kit (ATAK) mobile application to enable fully off-grid communications independently of cell, wifi, and satellite networks. 
goTenna's industry-leading mesh networking protocols support critical situational awareness tools for location tracking, mapping, and text-based messaging in ATAK as well as other compatible iOS and Android mobile applications. Even in the most remote and austere environments, teams are able to track individual operator and vehicle locations, share maps, hazards, and other points of interest, and exchange text-based messages within teams and across multi-agency deployments. 
goTenna Pro currently supports over 200 defense and public safety agencies in mission-critical operations around the world. To date, the technology has been used and proven in major disasters, including the Camp Fire in California and Hurricane Michael in Florida. 
"In any disaster, communications are our ultimate lifeline, said Daniela Perdomo, goTenna's Co-Founder and CEO. "It is exercises like PATRIOT South 2020 that provide us with the opportunity to demonstrate how goTenna Pro can extend connectivity in complex, comms-denied environments and help our armed forces and first responders stay in constant contact using the most intuitive and interoperable technology available today — the smartphone."
About goTenna
goTenna is advancing universal access to connectivity by building the world's most intelligent and scalable mobile mesh networks. goTenna is the world's leading mobile mesh networking company, providing off-grid connectivity solutions for smartphones and other devices, as well as augmenting traditional communications networks. This technology enables mobile, long-range connectivity even without cell, wifi or satellite connectivity. goTenna's drive to create resilient connectivity began during Hurricane Sandy in 2012, when approximately a third of cell towers and power stations in affected areas failed. Based in Brooklyn, goTenna is backed by investors including Founders Fund, Union Square Ventures, Comcast Ventures, Collaborative Fund, and Bloomberg Beta.

Request more info from goTenna
Thank You!