PRESS RELEASE
Pierce and Fotokite Establish Exclusive Alliance
---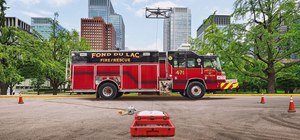 APPLETON, Wis. – Pierce Manufacturing Inc., an Oshkosh Corporation (NYSE:OSK) company, announced today that it is partnering exclusively with Fotokite to provide situational awareness systems to firefighters and first responders. The introduction of the PierceÒ Situational Awareness System by Fotokite was announced at the Fire Department Instructors Conference (FDIC) in April 2019. Through a newly-established exclusive arrangement between Pierce and Fotokite, the vehicle-integrated situational awareness product will be available solely through Pierce's dealer network.
The situational awareness system is a self-piloting, actively tethered aerial device that provides instant aerial views of an emergency scene to help maximize response effectiveness and safety. With no requirement for a piloting license or certificate of authorization, valuable team resources are not depleted to pilot the aerial device during an operation. Controlled inside or outside the vehicle via tablet, a live video stream offers thermal surveillance, scene documentation, as well as critical training. The system transmits power, control signal, and video through the tether for security and reliability.
"During the beta-program rollout earlier this year, the Pierce Situational Awareness System was flown in over 1,500 missions by fire departments across the country," said Jim Johnson, president of Pierce Manufacturing. "These missions included live fire responses, search and rescue missions, and training exercises."
Additionally, the system was on display throughout the 2019 Pierce Road Rally, which drew 2,200 attendees and covered over 5,000 miles and 16 states.
"The entire Fotokite team is honored to serve firefighters and first responder teams in their duty to save lives and preserve property, alongside Pierce Manufacturing," said Chris McCall, CEO of Fotokite. "Through this partnership, we look forward to building on the solid track record of installations, trainings, and resources provided to not only keep firefighters safe but also to support them in their everyday missions."
Pierce and Fotokite's exclusive cooperation covers all land-based firefighting and public safety command vehicle markets in North and South America, as well as worldwide airport rescue and fire fighting and industrial fire fighting customers. Pierce's dealer network supports Pierce Situational Awareness System installations in both new apparatus and those currently in service, including non-Pierce apparatus.
For more information about Pierce Manufacturing's exclusive alliance with Fotokite and the Pierce Situational Awareness System by Fotokite, visit www.piercemfg.com.
About Fotokite
Fotokite designs and manufactures purpose-built aerial situational awareness products that provide valuable overview information to firefighters and first responders to help them manage complex, safety-critical situations. Fotokite's offices in Zurich CH, Syracuse NY, and Boulder CO support Public Safety customers worldwide with world-class situational awareness products. Fotokite's core technology was born at the Flying Machine Arena and spun off from ETH Zurich in 2014. Learn more at www.fotokite.com.
About Pierce Manufacturing
Pierce Manufacturing Inc., an Oshkosh Corporation [NYSE: OSK] company, is the leading North American manufacturer of custom fire apparatus. Products include custom and commercial pumpers, aerials, rescue trucks, wildland trucks, mini pumpers, elliptical tankers, and homeland security apparatus. In addition, Pierce designs its own foam systems and was the first company to introduce frontal airbags and the Side Roll Protection system to fire apparatus. To learn more about Pierce, visit www.piercemfg.com.
About Oshkosh Corporation
At Oshkosh (NYSE: OSK), we make innovative, mission-critical equipment to help everyday heroes advance communities around the world. Headquartered in Wisconsin, Oshkosh Corporation employs more than 15,000 team members worldwide, all united behind a common cause: to make a difference in people's lives. Oshkosh products can be found in more than 150 countries under the brands of JLG®, Pierce®, Oshkosh® Defense, McNeilus®, IMT®, Frontline™, Jerr-Dan®, Oshkosh® Airport Products, CON-E-CO® and London™. For more information, visit oshkoshcorp.com.

Request more info from Pierce Manufacturing
Thank You!