$24.7M communications upgrade to replace 20-year-old gear for Pa. county first responders
Luzerne County signed a contract with Motorola Solutions Inc. to order more than 3,000 radios to replace the old analog system
---
Amanda Christman
Standard-Speaker, Hazleton, Pa.
BUTLER TOWNSHIP, Pa. — Area first responders got a first hand look at the new radios they will use in Luzerne County next year.
The $24.7 million contract Luzerne County council entered into with Motorola Solutions Inc. in December will replace the county's obsolete analog communication system with a new digital version that promises better communication between county fire, police and emergency medical services and 911.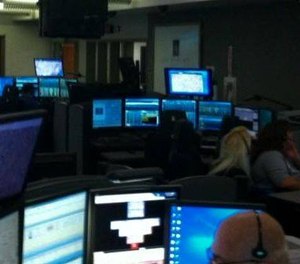 "Community safety is the most important thing," said Andrew Zahorsky, data and technical support manager at Luzerne County 911.
Though the actual order date which will total over 3,000 devices hasn't been set, the discounted equipment will be purchased by the county through a loan and are projected to go live in the first quarter of 2021.
The order will outfit all 173 first responder departments in the county, said Andrew Zahorsky, data and technical support manager at Luzerne County 911.
Zahorsky said the equipment will replace what first responders are using now, which is well past its prime at around 20 years old.
The county was also able to save first responders from paying for the basic equipment, though each department can purchase additional equipment and accessories at a discount on their own.
"This wouldn't be possible without the majority of (county) council and (county Manager David) Pedri," Zahorsky said.
Jason Ramsey of Motorola said not every county pays for new radios.
The county held three of several demonstrations planned for county first responders on Tuesday at the Butler Twp. community building on West Butler Drive and plans for one catered to school districts.
Butler Twp. Police Chief Brian Sabatini said he's looking forward to the safety features the new system will bring.
"We had a lot of times officers could have been put in danger because of the antiquated system," and times where communication wasn't clear because of old equipment and technology, he said.
"Luzerne County is going above and beyond for their concern for first responders," Sabatini said.
The county is buying APX 4000 portable radios, and APX 4500 and 6500 models for its mobile units, John Ankenbrand, technical support at county 911 said. The county began research for upgrading the system back in 2016.
When it came time to look at cost, they received prices from two manufacturers who answered requests for proposals, Ankenbrand said.
"They did a lot of planning. They got a consultant in. The county council really put up a lot of money for first responders," Scott Kostician, Hazle Twp. fire chief, said. "To help protect us."
Kostician said the Motorola brand has offered top-of-the-line radio systems for decades.
These radios in particular, he said, have Bluetooth capability which allows firefighters to multitask, such as monitoring the radio while manning pumping equipment.
If a portable radio is laying down for a period of time it sends out an alert that someone's down, which will help not only fire, but police and ambulance, too.
Volunteer firefighters will also be able to hear their radio tones for response when elsewhere in the county. Right now, firefighters have to be near their community to hear their response tones, Kostician said. The new radios will also offer more channels for first responders to use so they won't miss information and will have better information before arriving to a call, allowing them to serve the public more efficiently.
"I'm very optimistic about it," he said.
"They really made a huge investment in firefighters and first responders," he said.
Hazle Twp. Fire plans to seek out grants to buy additional equipment to enhance what the county is providing.
George Nassif of Motorola said the radios have a lifetime expectancy of 5 to 7 years, possibly 10, and undergo rigorous testing including a 4-foot drop test and observation under heat, dust, rain and vibration to ensure durability.
"We understand it is a huge investment," he said.
They've heard stories from around the country of the devices' durability, like the vest-strapped radio unit that stopped a bullet from penetrating a Nebraska police officer's chest and the radio lost in flood waters for a week that, once dried and given a new battery, started right up again.
Unlike its analog version, the digital radios will alert first responders when they reach the edge of a dead zone for communication and will eliminate "dead air" in the background while providing a crisper communication.
People listening to scanner traffic will find the county police messages aren't available to the public, instead encrypted to keep suspects in the dark and provide officer safety.
"You want the right people to be listening," Nassif said.
———
©2020 the Standard-Speaker (Hazleton, Pa.)
McClatchy-Tribune News Service

Request product info from top P25 Radios companies
Thank You!