4 ways this rugged, reliable radio helps firefighters be ready for the unexpected
The new APX NEXT XN All-Band P25 Smart Radio from Motorola Solutions supports clear communications in volatile situations with rugged construction, ease of use, clear audio and more
---
Sponsored by Motorola Solutions
By FireRescue1 BrandFocus Staff
As any firefighter will tell you, calls can go from routine to extreme in a moment's notice. This is why reliable, interoperable and rugged handheld radios are an absolute must for firefighters in every department, no matter how large or small.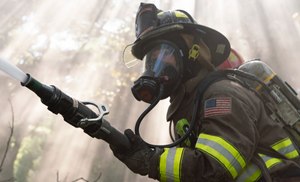 The APX NEXT XN All-Band P25 Smart Radio from Motorola Solutions has been purpose-built to a new standard of safety and toughness. Supporting transmissions in the VHF, UHF Range 1, UHF Range 2, 700 and 800 MHz Bands, the APX NEXT XN is dedicated to being a trustworthy communications lifeline for firefighters as they confront the unexpected.
Here are four ways that the APX NEXT XN delivers on this promise:
1. BUILT TOUGH TO WITHSTAND EXTREME HEAT, ROUGH USE
The APX NEXT XN has been built to meet the latest standards for the fire service, taking toughness to a whole new level. This radio is designed for use in the hazard zone, and it is capable of working while being frozen, heated, drowned, flash fried, dropped and tumbled.
In rigorously controlled laboratory tests, the APX NEXT XN radio has been shown to withstand 500-degree (Fahrenheit) conditions for five minutes and keep working. It has also endured being exposed to 350-degree heat for 15 minutes and then being immersed into 4.9 feet of water – and remained functional.
Motorola Solutions also exposed three of these radios to -4 degrees, 72 degrees and 160 degrees, respectively, as well as dropping all of them eight times each from a height of 9.8 feet. All kept working despite this torture. Another APX NEXT XN kept running after resisting direct flames for 10 seconds.
These radios perform self-checks upon initial power-up and every five minutes afterward to monitor battery level, radio temperature and antenna/remote speaker microphone connections. Users are notified of any issues through audible and visual alerts.
2. CLEAR AUDIO AT ALL TIMES
Fire/rescue scenes are typically noisy, chaotic situations, but firefighters and incident commanders must be able to be heard at all times because the information they are sharing by voice is literally of life-and-death importance.
This is why the APX NEXT XN radio has been designed to deliver high-quality audio at all times via a 3-watt loudspeaker with an adaptive equalization engine to modulate audio settings as conditions change, as well as two built-in HDR (High Dynamic Range) microphones for maximal sound capture. Collectively, these features minimize the noise caused by chainsaws, crowds, explosions, sirens and wind to ensure clear two-way voice communications.
3. EASY TO USE, EVEN WITH GLOVES
Firefighters work around the clock in all kinds of weather, typically while wearing heavy gloves to protect their hands. This is why the APX NEXT XN radio is made to be easy to use at all times. Its oversized knobs and buttons are quickly accessible yet protected against accidental activation with positive action controls that require affirmation.
Visibility is also important, and the radio's front-mounted 3.6-inch full-color transflective touch screen reflects ambient light so it can be viewed in all lighting conditions. It can be operated by gloved hands, all while being protected by a 1-millimeter toughened glass lens. The APX NEXT XN also features a small top-mounted LCD screen to allow users to see essential information with a quick glance.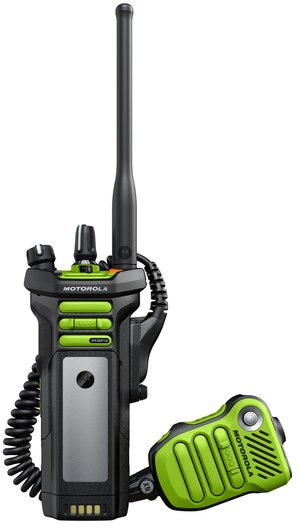 4. SMART SOFTWARE KEEPS CREWS CONNECTED
The "smart" in APX NEXT XN All-Band P25 Smart Radio refers to four advanced software features: SmartConnect, SmartMapping, SmartLocate and SmartMessaging.
When a firefighter moves beyond the limits of their radio system's coverage, they shouldn't have to leave their lifeline behind. Whether the demands of a call take them into the depths of an urban canyon or a mutual aid call in the neighboring county, SmartConnect ensures that their lifeline is always connected and dependable by automatically switching between P25 and broadband LTE to maintain voice communications regardless of radio coverage. At the same time, SmartConnect P25 packet routing preserves the user's authentication, status, talkgroups and encryption without interruptions or resets.
As a call unfolds quickly, keeping track of the big picture through real-time electronic mapping keeps firefighters safe and effective, and incident commanders in charge. SmartMapping supports this by delivering precise location information on a map interface right on the APX NEXT XN's color touchscreen. Users can see their locations, find addresses, drop waypoints and generally stay on top of the situation. They can also view the location of other units and firefighters at a glance – and quickly pinpoint colleagues in distress.
With SmartLocate, a location routing service sends the user's radio location data over broadband LTE for faster updates and increased efficiency, while expanding the number of devices that can be tracked simultaneously. SmartLocate also automatically triangulates radio locations using nearby cell towers and WiFi access points for greater accuracy when users are indoors, deep urban canyons or heavily forested areas.
SmartMessaging turns the APX NEXT XN radio into a multimedia toolkit. It enables the secure sharing of texts, images, videos and voice notes across a fire department's extended team, either with individuals or groups, on other radios or smartphones. SmartMessaging is built right into the APX NEXT XN home screen for quick, intuitive use, while keeping content securely stored for future reference.
With all these features designed specifically for the rigors of the fireground, the APX NEXT XN All-Band P25 Smart Radio from Motorola Solutions provides a rugged, reliable and advanced communications solution to keep firefighters and incident commanders connected and informed at all times.
Visit Motorola Solutions for more information.
Read Next: The dollars are in the details: How to make your case to win grant funding

Request information from Motorola Solutions
Thank You!