How do you make a tough radio tougher?
The new NFPA 1802 standard sets the bar higher – but Motorola was well-equipped to meet it
---
Sponsored by Motorola Solutions
By John Erich, FireRescue1 BrandFocus Staff
In June 2011, a pair of San Francisco firefighters were tragically killed when their communications failed during a house fire. They weren't the first firefighters to die in such a scenario – but they were a turning point.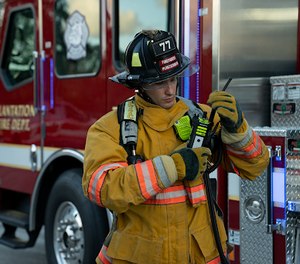 The deaths came at a time when federal investigators had documented similar failures in other incidents, and industry groups like the International Association of Fire Chiefs were raising concerns about radio transmission quality. So when the National Institute for Occupational Safety and Health (NIOSH) found more communications problems in the San Francisco deaths – including mayday calls that went unheard when the victims' remote speaker microphones (RSMs) faltered against the heat and flames – fire service leaders had enough. They launched a process that, nearly a decade later, produced NFPA 1802, the National Fire Protection Association's new Standard on Two-Way, Portable RF Voice Communications Devices for Use by Emergency Services Personnel in the Hazard Zone.
WHAT NFPA 1802 SAYS
Released in 2021, the standard establishes operating parameters and minimum design, performance and testing requirements for the radios and other two-way communications devices, such as RSMs, used by firefighters exposed to hazardous circumstances and events. It's aimed at ensuring performance under conditions such as extreme heat, extreme moisture, and drops and impacts, and thus preventing tragedies like the one in San Francisco, where the 2011 deaths followed a flashover that pushed temperatures over 700 degrees Fahrenheit and melted the firefighters' RSM cables.
It's a broad standard that addresses three main areas: ergonomics, features and operating environment. The first area covers aspects like knobs, buttons and physical handling. The second looks at things like interoperability, data storage and hazard-zone operation. And the third sets forth testing requirements to ensure performance against the environmental extremes devices may face.
Specifically, to comply with NFPA 1802, radios and their accessories must be shown to withstand:
Five minutes of exposure to 500 degrees Fahrenheit.
15 minutes at 203 degrees Fahrenheit, followed by exposure to direct flame (more than 1,700 degrees Fahrenheit) for 10 seconds.
Six exposures of 15 minutes to 350 degrees Fahrenheit, followed each time by immersion in 5 feet of water for 15 minutes.
Repeated 10-foot drops onto concrete at cold (minus-4 degrees Fahrenheit), room (72 degrees Fahrenheit) and hot (160 degrees Fahrenheit) temperatures.
A three-hour vibration test.
The new APX NEXT XN all-band P25 smart radio and XVN500 remote speaker microphone (RSM) are Motorola's first devices compliant to the NFPA 1802 standard. As a leading provider of communications devices for the demanding users of the fire industry, the company has long had testing procedures designed to confirm products' toughness under extreme conditions. That positioned it well to meet the stringent new requirements of NFPA 1802.
WHAT MAKES A RADIO TOUGH?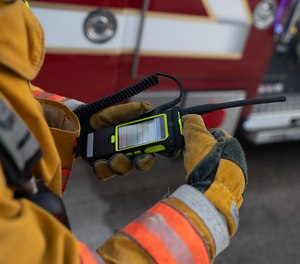 Motorola's extensive APX line includes both single- and multiband portable devices for first responders and other high-stakes users. These are all tested and certified to various common industry standards – for example, IP67 and IP68 levels of ingress protection against intrusion by dust and water. Such existing standards help validate that customers are buying durable radios and accessories that will keep working through most emergency operations.
For those few extreme outlying cases, NFPA 1802 raised the bar even higher. For devices like the APX NEXT XN, it required new tests that included exposure to higher temperatures and direct flame, as well as drops from a greater height. Motorola performs most of its testing in house during its product development process, using both key published standards and customer input to build to the levels of robustness users require, but the new flame test had to occur at an independent lab with specialized facilities and equipment. For NFPA certification, in-house testing must be followed by independent third-party verification.
Both NFPA 1802 and MIL-STD-810, the longstanding military standard for resistance to environmental stress met by all APX NEXT models, encompass testing against exposure to extreme heat. This entails placing devices in special high-temperature chambers for specified periods. Their continued operation relies on using the right materials in construction and ensuring protection of sensitive internal components.
NFPA 1802 also spells out the depth and duration of submersion tests. Designs must be fully sealed to prevent the intrusion of water or moisture that can damage sensitive electronics.
With falls and drops, the NFPA's new standard exceeds even the requirements of MIL-STD-810. Motorola's team focused on seal integrity around the battery, antenna, display and controls – areas known to be at risk in extreme fire and hazmat environments.
In general, the durability of radio devices and accessories on the fireground is a function of materials, construction and best practices honed by experience and codified in standard. NFPA 1802 has forced manufacturers who already took the issue seriously to up their game even more.
"The arrival of NFPA 1802-compliant devices marks a significant advance that helps ensure a crew member's handset works when conditions are the worst," said analyst Ken Rehbehn of CritComm Insights, a research firm focused on mobile wireless communications technology for public safety. "Advances in materials technology, coupled with a rigorous testing process make this a major milestone in the journey to improve firefighter safety."
STAY IN TOUCH WHILE OUT OF RANGE
Beyond its toughness and NFPA 1802 compliance, the APX NEXT XN has more going for it. Integrated LTE and Wi-Fi, known as SmartConnect, in all APX NEXT models extends coverage if a radio is out of LMR coverage area, meaning vital communications can continue seamlessly. Additionally, LTE, Wi-Fi, GPS and Bluetooth connectivity help keep things networked and power Motorola's SmartLocate and SmartMapping functions, which track the locations of radios and users in the field – a major accountability and safety benefit on complex and confusing scenes. SmartProgramming allows batch programming out of the box and updates over the air, and SmartMessaging allows users to send and receive multimedia messages across teams. Like other APX models, the APX NEXT XN features a durable touchscreen that's easy to use even with gloves.
"When you go in those areas where you have less signal, whether it's a rural area or even in the basement of a building, it switches over automatically," said Motorola APX NEXT XN Product Manager Ali Zaidi. "You never lose your communication, which is one of the biggest benefits."
The radio also reflects other requirements of 1802, including those for audio speech quality, abrasion and corrosion resistance and power source performance. Software testing ensures functioning in hazard zone mode, data logging for postincident review, and self-checks of battery levels, radio temperature, and antenna and RSM connections. Audible and visual alerts occur for connection failures, low batteries, excessive temperatures and other threats. The XVN500 RSM features four high-dynamic range microphones and adaptive noise suppression to ensure clear transmissions. Using ViQi Voice Control, both pieces respond to a range of voice commands, so work need not be interrupted to communicate.
For a full list of NFPA 1802 requirements, see Motorola's FAQs page, the NFPA's dedicated site or Motorola's NFPA 1802 Executive Summary Guide. Find the full list of APX NEXT XN specifications here.
"Portable radios are an indispensable tool for firefighters, and our industry was in need of universal benchmarks to make sure these endure and perform in the most extreme of circumstances," said San Francisco fire chief Jeanine Nicholson, whose department pushed for the standard after the 2011 deaths. "Our agency was pleased to be a driving force in establishing the rigorous standards and testing criteria for the NFPA certification, and we appreciate the commitment of Motorola Solutions in designing a radio that will improve industry safety."
For more, visit Motorola Solutions.
READ NEXT: 3 ways to boost firefighter safety with integrated tech tools 

Request information from Motorola Solutions
Thank You!