PRESS RELEASE
Fulton County, Georgia selects Mission Critical Partners to provide 911 system data analytics
---
The firm's solution, coupled with its subject-matter expertise, will enable Fulton County to identify performance trends while integrating data from multiple sources into a central data lake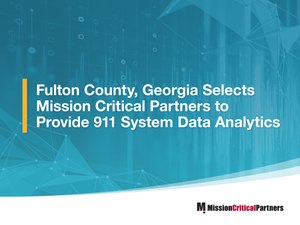 STATE COLLEGE, Penn., — Mission Critical Partners (MCP) will implement an advanced, data-driven 911 system search and data analytics platform for the Fulton County, Georgia, Emergency Communications Center (ECC). The platform, known as DataScape, will be customized to meet the county's needs, including integrating data from multiple, disparate sources into a central data lake and helping the ECC analyze 911 performance trends.
The flexibility of DataScape will enable Fulton County to manage historical computer-aided dispatch (CAD) system data regardless of the vendor. The risk of data loss will be reduced significantly, and the integrity of the system's responsiveness will be protected in the event of a system replacement, which is critical to meeting open-records requests, criminal attorneys' discovery needs, and other research needs. This represents a step forward for Fulton County as the solution will empower analytics in ways previously impossible with its current CAD system.
The DataScape platform is hosted within an Amazon Web Services (AWS) GovCloud environment, which addresses the most-stringent government security and compliance requirements. DataScape is agnostic to any dataset and source, regardless of its location or ability to transmit data. Data is stored in a data source independent of any vendor system's proprietary data formats, enabling the ECC to create flexible source tools and combine the data with additional sources for deeper trend analysis.
After implementing DataScape, MCP will provide ongoing support and maintenance and the option of implementing powerful visualization tools to demonstrate how the ECC is performing based on key 911 response metrics.
"Fulton County's historic CAD data has no utility unless it can be harnessed and made actionable," said Darrin Reilly, MCP's president and chief executive officer. "We are honored to have this opportunity to provide the ability to analyze and contextualize this data using DataScape so that it can improve decision-making."
About Mission Critical Partners (MCP)
Mission Critical Partners (MCP) is a leading provider of data integration, consulting, network, and cybersecurity solutions specializing in transforming mission-critical communications networks into integrated ecosystems that improve outcomes in the public safety, justice, healthcare, transportation, and utility markets. Our comprehensive experience and vendor-agnostic approach helps us develop modernized solutions for our clients to maximize value and create optimal efficiency while mitigating risk. Additional information and career opportunities are available at www.MissionCriticalPartners.com

Request more info from Mission Critical Partners
Thank You!