PRESS RELEASE
MCP launches solutions to address public-sector staffing shortages
---
Solutions are designed to alleviate nationwide staffing shortage in numerous ways, from improving recruiting and hiring to augmenting staffs on an interim basis
STATE COLLEGE, Pa.,  — Mission Critical Partners (MCP) announced today a new suite of solutions designed to help all public-sector organizations — law enforcement, fire/rescue, emergency medical, 911, and the courts — cope with the acute staffing shortage that for many has reached the crisis stage.
"The workforce solutions suite is a direct reflection of the breadth and depth of expertise and experience that MCP's 200-plus subject-matter experts can offer," said Darrin Reilly, president and chief executive officer. "Regardless of where an organization fits into the public sector, we can help them address their staffing issues in a variety of ways."
The staffing shortage exists from coast to coast and is driven by numerous factors. Older workers are retiring in large numbers. In addition, funding limitations often prevent public-sector organizations from offering compensation that is competitive with that offered by private-sector organizations.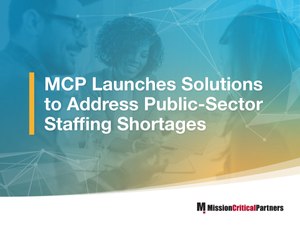 Further, public-sector organizations often fail to leverage contemporary recruitment channels such as social media, with the result being an inadequate number of qualified applicants. Their hiring workflows have too many steps, with the result being that they take too long to make job offers to viable candidates. And they often lack dedicated human-resources (HR) personnel to drive the recruiting-and-hiring process in a timely manner. Even when such personnel exist, they often lack the requisite knowledge and experience needed to recruit and hire in today's challenging environment.
With MCP's new offering, public-sector organizations can outsource numerous recruiting- and hiring-related tasks and activities that they are unable to perform effectively in house, both short-term and long-term. They include:
Developing a recruitment-and-hiring plan that identifies tactics and candidate sources, including nontraditional sources
Recruiting-and-hiring chat and coaching support
Streamlining the job-application process to endure that it is user-friendly
Assessing job requirements to ensure that they are current and reflect the operating environment
Sourcing of recruits and hiring of candidates to ease the burden on HR departments that are overburdened
Creation of recruiting-and-hiring marketing materials that emphasize the intangible benefits of working in the public‑safety sector, to enhance recruitment
Creation or enhancement of a social-media presence to enhance recruitment
Coordination of, and participation in, recruitment-and-hiring events
Coordination and execution of job-related testing to ensure candidate viability
MCP's recruiting, hiring, and staff-augmentation services work in concert with the firm's suite of workforce solutions. Currently, MCP has embedded personnel — both short-term and long-term — in numerous client organizations to enable them to continue operations effectively until they can bring needed personnel resources in house. MCP's subject-matter experts are performing a variety of technical and operational roles pertaining to recruiting and hiring, radio, call-handling, computer-aided dispatch, records management, and geographic information systems, as well as information technology (IT) and cybersecurity.
"MCP can support an organization's recruiting and hiring, perform those tasks for them, and provide personnel to fill gaps until the staff has been replenished," Reilly said. "No matter what an organization needs to address the current staffing crisis, MCP can provide it."
About Mission Critical Partners (MCP)
Mission Critical Partners (MCP) is a leading provider of data integration, consulting, network, and cybersecurity solutions specializing in transforming mission-critical communications networks into integrated ecosystems that improve outcomes in the public safety, justice, healthcare, transportation, and utility markets. Our comprehensive experience and vendor-agnostic approach helps us develop modernized solutions for our clients to maximize value and create optimal efficiency while mitigating risk. Additional information and career opportunities are available at www.MissionCriticalPartners.com.

Request more info from Mission Critical Partners
Thank You!