PRESS RELEASE
'Push' in case of emergency: AT&T delivers new school safety solution, powered by FirstNet, Intrado and NextGen 9-1-1
---
New Intrado Safety Suite with Wearable Panic Button reduces emergency response time by directly connecting school personnel with 9-1-1 via FirstNet
WASHINGTON — As the only carrier that can provide end-to-end emergency communication solutions, AT&T* is helping school districts better protect their students and faculty in the event of an emergency. In advance of the 2023-2024 school year, schools across the country will be able to purchase the new school safety solution – powered by FirstNet, Intrado and AT&T ESInet – to reduce emergency response times by seamlessly connecting school staff, school information systems, 9-1-1 call takers and first responders. Fully compliant with Alyssa's Law, this new solution is comprised of:
The FirstNet Certified Intrado Safety Shield mobile app helps schools prevent, prepare for, respond to, and recover from safety threats. The app includes a silent panic alarm, secure 2-way faculty chat, digitized emergency response plans, role-specific response checklists, integration with school information systems to account for all children in an emergency and quickly reunite students with their parent/guardian, and more.
A lightweight, Wearable Panic Button for staff (think teachers, bus drivers and administrators) that can send life-saving situational data to 9-1-1 while simultaneously and silently notifying campus-wide personnel via haptic vibration. And FirstNet covers 250,000+ more sq. miles than commercial networks, so its benefits extend beyond school grounds to support emergencies during field trips, athletic and other events that occur off-campus, or simply during daily transportation. Plus, automated daily health checks give educators peace of mind all year long.
The Intrado Safety Shield portal provides key stakeholders with a single operational view for all emergency response activities across the district. And with near real-time and automated mass notifications – spanning full-screen takeover desktop alerts to digital messages on desk phone screens – this hub unites fragmented systems and processes to help immediately communicate critical information.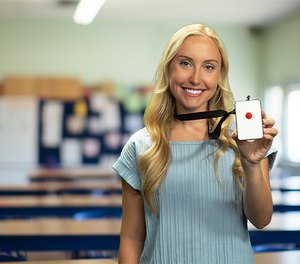 Keeping children safe is top of mind for everyone. School shootings across the United States continue to rise, hitting a record high last year and surpassing 180 shootings in 2023 so far. And 77% of public schools recorded at least 1 crime incident in the 2019-2020 school year according to the U.S. Department of Education's latest report on school crime and safety. While the challenges of protecting our schools seem to be increasing, tools like the Intrado Safety Suite with FirstNet, are available to proactively reduce risk and create safer school environments. 
This new solution is more than just a panic button. Traditional panic buttons notify a preset individual who then contacts 9-1-1. We are helping school districts remove the "middleman" by integrating directly into 9-1-1 call centers – also known as Public Safety Answering Points or PSAPs – with their NextGen 9-1-1 solution like AT&T ESInet. The solution automatically works in any 9-1-1 center without adding new equipment or processes.
Plus, it eliminates the need for 9-1-1 call takers to transcribe the caller's information by sending preset, customized information that can then go directly to first responders, turning minutes into seconds. And since FirstNet traffic is always prioritized, the incident data is protected from commercial network congestion from the moment the button is pressed all the way to reaching the first responders arriving on scene.
The First Responder Network Authority (FirstNet Authority), an independent agency within the federal government, partnered with AT&T to deliver America's public safety network. We look at FirstNet as the most important wireless network in the country because it's the only network built specifically for America's first responders and the extended public safety community who support their missions. With 26,000 agencies and organizations – accounting for 5 million connections – more first responders choose FirstNet to reliably communicate. And as first responders' communications needs evolve, FirstNet will continue to grow and advance for decades to come. After all, no connection is more important than one that helps save lives.
Stay up to speed with the latest FirstNet news or visit FirstNet.com.
Request more info from AT&T FirstNet
Thank You!