How the new fire smart radio by Motorola Solutions helps protect your focus when it matters most
The APX NEXT XE P25 Smart Radio provides clearer audio, rugged reliability and touchscreen controls to help keep firefighters connected on the fireground
---
Sponsored by Motorola Solutions
By FireRescue1 BrandFocus Staff
In high-stress and extreme situations, efficient team communication can be the difference between life and death. Firefighters and incident commanders need a radio that works every time, without distraction or doubt.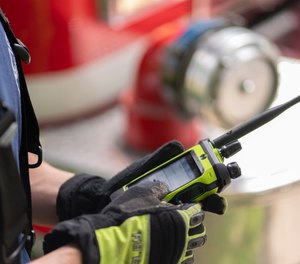 Building on decades of providing rugged, reliable, mission-critical communication tools to the fire service, Motorola Solutions now offers its latest smart radio technology to fire departments with the APX NEXT XE P25 Smart Radio.
Easy to operate in various conditions 
The best tools are effortless to use in even the most chaotic situations. The APX NEXT XE P25 Smart Radio is designed so that every interaction is simple, fast and logical so firefighters can stay focused on the task at hand.
Different situations present different operating conditions and requirements, so the APX NEXT XE allows for operation by a rugged touchscreen and voice activation, as well as conventional hard controls:
Oversized knobs and buttons are easy to grip, distinguishable by touch and designed to minimize accidental activations.
The rugged touchscreen, supported by a rigid stainless steel plate, is designed to work in hot, wet and gritty conditions. It recognizes touches even through gloves but remains resistant to false actuation from the elements, and its transflective display enables both indoor and outdoor readability. The "shallow" touchscreen menu, structure with a maximum menu depth of three taps on core radio functions, speeds up navigation to quickly provide needed information with minimal effort.
The ViQi button allows for quick access to voice controls, enabling firefighters to perform 14 actions, including changing channels, asking for battery status and adjusting volume, without breaking focus.
Built rugged to withstand extreme environments 
The APX NEXT XE P25 Smart Radio is designed to military standards for extreme ruggedness and Division 2 HazLoc certification. It passes the most extreme ruggedness tests, including:
4-foot drop on all faces, edges and corners.
130g steel ball drop from 20 inches directly onto the display.
Operating temperature of -22F to +140F.
These radios are built with ultra-strong materials for durability and impact resistance, inside and out. A modular structural support system provides shock absorption, further protecting the display and internal components.
The high-capacity battery also provides improved water resistance and a typical standard battery life of 14 hours.
Improved audio for improved communication 
The most important feature of any radio is clear voice communications. The APX NEXT XE Smart Radio builds on Motorola Solutions' APX audio technology with advanced audio performance and sophisticated noise-reduction techniques.
"No matter where you are or how you speak, you can be confident that you'll hear and be heard clearly," said Scott Alazraki, APX devices product manager at Motorola Solutions.
The APX NEXT XE features two high dynamic range microphones for reduced noise and distortion and improved intelligibility, even with extreme loud and soft input. This means that even when people are shouting in stressful situations, the radios will transmit speech that can be understood.
The Automatic Receive Volume Leveling feature equalizes output volume so that all radio communications are heard at similar loudness, so there's no need to constantly adjust the volume, potentially distracting from an important command or fireground hazard.
The smart radios also feature advanced noise suppression to reduce interference from background noise in loud or windy environments. Algorithms track voice communications from the microphones and filter out the surrounding noise to deliver understandable speech – even while using an SCBA mask.
Smart features bring new intelligence to the fireground 
When you need information on the fireground, you need it fast. Here are seven ways the APX NEXT XE brings smart technology to the fire service:
1.           SmartConnect: The APX NEXT XE SmartConnect feature provides automatic switching between P25 and broadband LTE to maintain voice communications regardless of the limits of your radio system's coverage. P25 packet routing preserves authentication, status, talk groups and encryption without interruptions or resets. This helps to enable communications in mutual aid or multiagency responses, as well as preserve communications in rural areas or dense buildings.
2.           SmartLocate: Radio location data is sent over broadband LTE for faster updates and increased efficiency, while expanding the number of devices that can be tracked simultaneously. SmartLocate automatically triangulates radio location using nearby cell towers and WiFi access points for greater accuracy when in deep street canyons, forested areas or indoors.
3.           SmartMapping: Get precise location information on a modern map interface – directly on the radio's screen – for enhanced situational awareness in the field. See your location and view the location of other units and firefighters at a glance.
4.           SmartMessaging: Securely share texts, images, videos and voice notes across an extended team, either with individuals or groups on other radios or smartphones. Designed specifically for public safety, this feature is built into the APX NEXT XE home screen for quick, intuitive use, while keeping content securely stored for future reference.
5.           ViQi Virtual Partner: The secure cloud service allows you to use voice commands and run database queries for quick access to information, providing fast, secure and eyes-up intelligence.
6.           Expandable Public Safety Applications Platform: New capabilities and functionalities can be seamlessly added to the APX NEXT XE radio fleet as needs evolve.
Program and update your radios in minutes 
APX NEXT XE reduces configuration time and update cycles from months to minutes. Radios can be provisioned and updated in the cloud, and new capabilities – like video, data analytics, and AI applications – can be added as your needs evolve.
RadioCentral, the cloud-based programming platform from Motorola Solutions, dramatically reduces the time and resources needed to provision and update a radio fleet. Coupled with SmartProgramming, updates can be sent directly and securely to personnel anytime, anywhere – without ever physically handling the radios – using the high-speed bandwidth and extended coverage of your LTE network.
Motorola Solutions also offers advanced services to provide the tools and expert support needed to efficiently manage your radio fleet.
The demands of a call require firefighters to adapt and overcome all obstacles, and focus is critical. The performance enhancements and smart features of the APX NEXT XE Smart Radio helps protect focus when it matters most.
For more information, visit Motorola Solutions.
Read Next: AFG 2020: Communications Project Application Guide (eBook)

Request information from Motorola Solutions
Thank You!