Motorola Solutions launches devices and software equipped with mission-critical technology
The products are designed to work together to improve command center operations
---
Mission-critical devices
The APX 8000H and the APX 8000HXE All-Band P25 Hazloc Portable Radios are both designed as hazardous location versions of the APX 8000 all-band P25 radio, with the APX 8000H gearted toward law enforcement, military and federal agencies, and the APX 8000HXE designed for firefighters and disaster management teams. Both radios meet the Underwriters' Laboratory Class 1 Div 1 standard. 
Motorola Solutions' LEX L11 Mision Critical LTE Device is certified for AT&T and is designed to work on the First Responder Network Authority (FirstNet), the national public safety broadband network, and provide critical communications to first responders on the ground.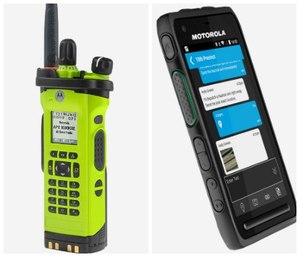 Mission-critical software
Designed to improve the speed of data sharing between first responders, agencies and other critical crew members, Motorola Solutions' cloud-based Critical Connect connects users of the company's LMR systems and broadband applications, as well as third-party applications. Users can use voice or Motorola's push-to-talk services to send data, including pictures, videos and location. 
The ASTRO 25 Location on Receive software maps the location of first responders and adds it to a mapping location app, even while the phone is in use. This provides critical information for command center dispatchers and helps them better respond to calls, particularly during high traffic times. 
Read more about these products and others on the Motorola Solutions website. 

Request product info from top Fire Radios companies
Thank You!