The portable radio: A firefighter's other mayday lifeline
Radios serve as a critical communications and safety tool on any hazardous scene
---
Download your copy of the FireRescue1 digital edition "Your Mayday Survival Guide," featuring one firefighter's mayday experience, training resources, and guidance for running command at a mayday event.
Sponsored by L3Harris
By Robert Avsec for FireRescue1 Brand Focus
Every fire apparatus carries two types of lifelines. One is a life safety rope, and the other is your portable radio.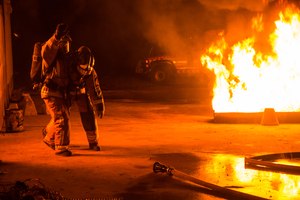 Ask most firefighters and fire officers to name one piece of equipment with which they have a love/hate relationship, and you can bet that most are going to say something like, "the @$&!ing portable radio!"
They love it when it does its job, and they don't have to think about it. And they hate it when it doesn't – those times that cause a firefighter or fire officer to curse "this worthless brick!"
A critical safety tool 
That portable radio quickly becomes a lifeline the moment a firefighter finds themselves in any of the following "Mayday Decision" situations as defined by Dr. Burton Clark in his book, "I Can't Save Your Life But I'll Die Trying" (p. 164):
You've fallen through a roof, through or down a set of stairs, or through a floor.
Your primary exit is blocked by any type of collapse, and you cannot reach a secondary exit within 30 seconds.
You are caught in a flashover condition or recognize that a hostile fire event is about to occur, or if your primary exit is blocked by fire.
You've lost your mobility for any of these reasons – entanglement, trapped, pinned, stuck, caught or wedged – and cannot extricate yourself within 60 seconds, or your SCBA low air alarm activates while you are trying to extricate yourself.
You've become disoriented or confused inside a structure within an IDLH environment and are no longer sure where you are or where the exit is located because you have lost contact with your crew, your hoseline or your rope lifeline, and you cannot reconnect within 30 seconds.
Your SCBA's low air alert device activates, and you cannot positively reach an exit door or window within 30 seconds.
Your SCBA malfunctions, or you have difficulty with maintaining proper operation of your SCBA for any reason while operating within an IDLH environment.
You are operating within an IDLH atmosphere, and you become injured or sick and your crewmembers cannot safely assist you out of the building immediately.
Without a working portable radio, and your ability to use its safety functions, you are at serious risk for injury or death.
Designed to enhance firefighter safety 
If you ask firefighters what some of their most common complaints about their portable radio are, many will likely say one of three things:
I can't operate the controls with my gloves on.
I have a tough time ensuring I'm on the correct channel.
It's hard to see the control display in low-visibility environments.
Those are exactly the sort of problems you don't want to face in a mayday scenario.
Advances in technology have enabled manufacturers to develop portable radios that provide tools critical to a firefighter's ability to survive a mayday event.
L3Harris Technologies, a leading manufacturer of portable radios for the fire service, has expanded its family of XL Project 25 (P25) radios by introducing its XL Extreme 400P, which includes features designed for ease of use, especially in hazardous conditions:
"Glove friendly" to ensure ease of operation by a firefighter in full PPE.
Large Emergency Activation Button (EAB) for use with gloved hand.
Loud audio by default for use in loud environments.
Confirmed power-off feature to prevent accidental power down.
Multiple new voice annunciations to indicate the unit is powering off, over temperature, has a low or dead battery or that a failed RSM has been attached.
Cable faults detection that assesses if the RSM cable has been compromised and alert the user via a voice announcement that the radio has automatically reverted to its internal microphone and speaker."Over temperature" detection to alert the user that they are operating the radio and RSM outside of their safe temperature range.
Support Bluetooth-capable accessories, such as an SCBA mask.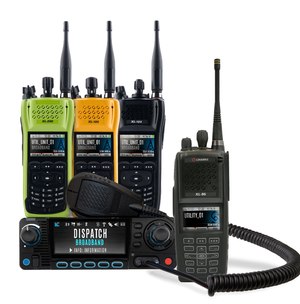 Essential command tool 
When a firefighter declares a mayday, the incident commander must quickly take two critical actions, and both involve portable radios:
Assign fire operations to a separate tactical channel and have everyone except the distressed firefighter move to that second channel.
Remain in direct radio contact with the distressed firefighter until the mayday has been resolved.
The XL Extreme 400P, in addition to the features described above, includes several attributes that make it easy for the IC to execute those critical actions following a mayday declaration and during the ongoing firefighter rescue:
A Visual Zone Detection Indication feature provides the IC, and everyone on the fireground, with quick visual confirmation that all users are on the same radio group or channel. It also delivers loud clear audio with noise cancellation for added clarity.
LTE operations capability gives the IC the ability to transmit and receive voice or data over FirstNet, AT&T or Verizon networks. The XL Extreme 400P also has Wi-Fi, Bluetooth and GPS capabilities built in, and the dual SIM design allows multiple carriers on the same device. 
The XL Extreme 400P provides interoperability during multi-agency responses (much more common today, especially in areas served by volunteer-staffed departments), as well as secure voice and data transmission.
With its data logging capability, the radio functions as a "black box," like the flight data recorders carried aboard commercial aircraft, that enables the radio to store critical data (the last 200 events) for after-action reports.
Up to the challenge 
Your fire department's portable radios are likely your most-used piece of equipment, as they get used by your crews on every call for service. Communication is an important part of any emergency response, but the need to communicate under extenuating circumstances takes a quantum leap when a firefighter must declare a mayday. Will your portable radios be up to the challenge?
Visit L3Harris for more information.
Read More: Your Mayday Survival Guide
Request information from L3Harris
Thank You!