PRESS RELEASE
Lehigh University Police prioritizes sustainability for surplus electronics with Radiowell
---
BETHLEHEM, Pa. - The Lehigh University Police Department is an accredited law enforcement agency serving the students, faculty, and visitors of Lehigh University. To enhance the reliability of its wireless communications, the agency upgraded its two-way radio system to an all-digital network. It then sought a vendor to remove the decommissioned radio equipment and selected New York-based Radiowell.
Radiowell provided Lehigh University with the market value for its retired equipment. And to support the University's sustainability ambition, Radiowell pledged to pay the costs of planting one tree for every radio received from Lehigh. The trees are planted in America's National Forests.
"Lehigh University is a known leader in areas like education, research, and college sports. But it's also a leader in sustainability," explained Assistant Police Chief Chris Houtz. "Partners like Radiowell have an important role in helping us achieve our environmental goals."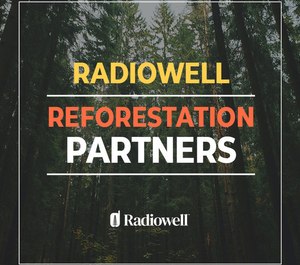 Radiowell, America's largest wholesale buyer of used and surplus two-way radios, repurposes functional radio equipment to support existing communication networks. It also donates working radios to support public safety, fire, and EMS organizations. And finally, it recycles unusable equipment via an environmentally leading process.
The Lehigh University Police Department is innovative in its approach to the asset disposition process. The majority of government agencies send their retired equipment to electronic waste companies. These companies charge significant handling fees, rarely deprogram the old equipment, and do not compensate government agencies if the equipment has value. And since they lack the technical understanding, they also fail to repurpose the reusable components in each radio.
Andrew Park, Radiowell spokesperson explains, "We aim to be the first stop when deciding what to do with retired radio equipment. Our experienced advisors will devise a strategy that maximizes the financial and environmental impact for our clients. And if we can't help, we'll assist clients in selecting a local provider. Radios are all we do, and we do it well."
Radiowell is America's leader in used-radio disposition. It offers top value for used equipment and is the only land mobile company with sustainability objectives tied to its business results.
A big impact starts with small changes. Leading universities, government agencies, and companies seeking sustainable solutions for used or surplus radios should complete the Sell Used Radios and equipment form on Radiowell's site.