3 pros and 3 cons for Google Glass in fire
Despite its easy connectivity to reams of vital emergency-scene information, Google Glass has large hurdles to clear
---
By Josh Shanley, Contributor
Wearable technology is certainly the buzzword of the year. Tech manufacturers are finding ways to augment our physical body in every way in an effort to improve our performance and situational awareness.
Earlier this year when Google announced that it was entering the market by making Google Glass available to a select test audience, it seemed to be a watershed moment. I had tried Glass and found myself wondering about the opportunities in the fire service and EMS to use this burgeoning technology to help do our job more efficiently and safer.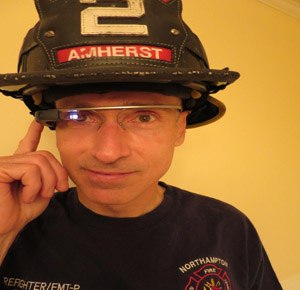 Google Glass is a self-contained computer mounted on a pair of eyeglasses providing visuals, thru a micro screen that sits in front of the right eye, and audio. It is wirelessly connected to the internet and voice activated to perform functions we've become accustomed to relying on our mobile phones for, such as getting directions, taking pictures and video, accessing the internet, and sending and receiving messages.
Glass is just too fragile for the extreme environments of a structure fire, but may prove useful in some EMS settings. Due to the current construction of Glass, the applications are somewhat limited in terms of how it would be used in an operational setting, but there are certainly command and control applications, and its use in administrative functions could prove invaluable.
Command and control
With wireless access to files with the swipe of a finger and blink of an eye, an incident commander could view maps that include hydrant locations and floor plans of specific occupancies while responding to a reported structure fire.
The commander could even view hazmat source material needed to identify a placard at the scene of an accident.
Administrative
Glass also has the potential to be a powerful tool for day-to-day fire department administrative functions. Fire prevention officers could easily refer to the most current codes when conducting inspections, expediting this sometimes tedious process.
Fire investigators can connect with databases while on site to assist with background checks or compare incidents with others using a host of variables.
EMS
Glass' use in EMS might prove more a real lifesaver by giving EMTs and paramedics cues on protocols and algorithms in real time while engaged with patients. This would reduce likelihood of mistakes with medication dosages or complicated procedures that are not performed on a regular basis.
The integrated camera could serve as an effective method of sharing the scene of an accident with medical control physicians or even provide the ability for doctors to evaluate a patient who may be having a stroke.
These situations often can dictate the proper port of entry for a patient into a specific hospital with specialized services such as a trauma center, for example.
Limitations
As mentioned, Glass is rather fragile, essentially having the same feel as a pair of prescription eyeglasses. In order to be able to withstand even routine use in the fire service and EMS, Glass would need some level of ruggedization.
This apparently is already under development as Google is rumored to be considering collaborating with sportswear companies such as Oakley and Ray Ban. The product that would come from this type of partnership could quite possibly qualify as real personal protective equipment.
Qualities such as providing eye protection, the ability to be integrated with other PPE, such as gloves and possibly even respiratory protection, and eventually even SCBA, make this an exciting possibility for firefighters and EMTs.
Glass' use in fire and EMS is not without some concerns in three main areas.
Distraction, eye strain, and privacy
It should go without saying, but it is not safe to drive or operate apparatus while using Glass. The potential to become distracted by the micro screen is simply too high and laws are already moving forward that would make use of "head mounted displays" while driving illegal.
There are also some concerns regarding the user's eye strain over a protracted period. This is currently undergoing additional medical research.
Also contentious is the potential for Glass users to violate privacy because of its ability to capture images, video and audio inconspicuously. This may be of biggest concern for EMTs who need to be conscientious of HIPPA and other confidential patient-related situations routinely.
Alternatives
Heads-up displays are certainly nothing new. The military has put a great deal of research into this area and there are many examples of how, when built to certain standards, this hardware can prove a useful tool with many applications.
What makes Glass different, however, is that it demonstrates the potential for this kind of technology to be available more widely to the public. Once Glass and its operating system enter the market place, the software and apps will not be far behind.
But Google is not the only company backing this next generation of wearable computer. In March, Facebook acquired Oculus, a manufacturer of a potentially competing platform with its Rift HUD device.
Admittedly not quite as elegant as Glass in its current form, the Rift shows great potential to provide a more immersive experience for the user through its use of virtual reality and 3D technology. There will undoubtably be other products released over the next year as companies begin to gain a better grasp on this new frontier.
In the end, Glass is less about the hardware or software, but more about the people that will be using it and the ways in which it could change their daily routines. Google Glass is promising to bring that power from our fingertips to right before our very eyes.
Clearly there is more to explore with how Glass could impact our ability to do our jobs more safely and efficiently in the fire service and EMS. "Okay, Glass, show me … !"
Josh Shanley, MS, MBA, EMT-P, is adjunct faculty at Kaplan University in the School of Public Safety, and has been a firefighter-paramedic for more than 20 years. He participated in the response to the World Trade Center attacks in 1993 and 2001. He is currently the emergency management coordinator in Northampton, Mass.

Request product info from top Fire Wireless Communications companies
Thank You!