4 steps to a successful drone program for your fire department
Establish your department's needs and budget, and learn from other departments and how FirstNet can improve your emergency communications to get your first UAV in flight
---
In today's fire service, it is essential for firefighters to understand the responsibility of implementing technology-driven resources. More importantly, it is critical for fire departments to recognize both the benefits and liabilities of embracing these advanced products and programs. Such is the case for drones and their applications to firefighters' work and their departments.
Implementing unmanned aerial vehicle (UAV)/unmanned aerial system (UAS) programs requires pre-planning, extensive training and certification, as well as vast amounts of information regarding policies, procedures, products and services. Here are the basic steps in creating an effective and responsible UAV/UAS program for your fire department, the goal being to create solutions and not problems.
1. Understand department drone needs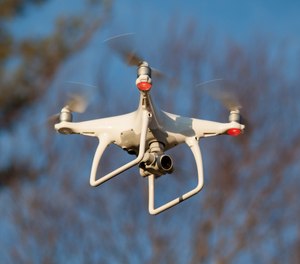 Are you part of a large metropolitan fire department capable of supporting an entire UAV division, or are you volunteering at a small rural collective soliciting funds from local businesses? Do you have seven months of winter or year-round heat waves followed by cataclysmic winds? Is your department challenged by high-rises in densely populated areas or large expanses of wilderness or desert?
Over and above department size and environment, requirements for UAV use may be influenced by:
Call volume
Nearby controlled airspace
Local hazards
Infrastructure
Auto or mutual aid agreements
Whether driven by a large percentage of medical calls, search and rescues, wildland fires, industrial hazmat threats or building inspections, knowing the daily response demands of your department will dictate the type of drone and payload requirements that will best suit your department.
2. Approve a workable UAV budget
Once you've determined mission requirements, you can formulate a financial plan to purchase equipment and maintain an appropriate UAV program. Such expenses over and above the drone and its components include:
Application for government-approved waivers
Documenting training and actual flights
Failure to read and abide by the numerous statutes, codes and restrictions regarding remotely piloted aircraft incorporated in the Federal Aviation Administration's rules and regulations can bring about an immediate end to any UAV program regardless of intent or emergency.
Add to these expenses the funding for the numerous public safety policy costs encountered in flying over various jurisdictions and authorities, as well as all support services, including:
Insurance
Software updates
Storage
Deployment expenses
Ongoing training with other response agencies
New communication technologies
3. Learn from other fire department drone programs
Large fire departments, such as the Los Angeles, Phoenix and FDNY have entire divisions devoted to deploying UAVs. Their standard operating procedures are publicly available, and understanding and utilizing information appropriate to your department's success is encouraged.
Smaller departments can share information and experience regarding UAV equipment, budget appropriate suppliers, and the exact expertise and training needed for particular mission requirements or deployment platforms. Modifying existing policy and procedures can accelerate drone programs and get a department's drone into the air faster and safer, saving substantial funds and keeping ahead of ever-changing technology.
4. Apply FirstNet to drone response
If you have attended an incident debriefing, you know that communication issues quickly come to the forefront of concern and criticism. A lack of clear channels, intermittent connectivity, squelching and jurisdictional gapping contribute to the more than 10,000 individual and potentially mismatched radio networks tasked to communicate with each other during an emergency.
Drone communications are subject to the same issues. Inadequate data and a lack of real-time interface can result in threatened airspace, intermittent connectivity or unauthorized flights, especially during large-scale multi-agency incidents involving multiple jurisdictions. In worst-case scenarios, UAVs can destroy property and injure personnel.
To directly address these problems, a group of public safety officials in cooperation with Congress created a public/private partnership to build, operate and maintain a prioritized, secure, redundant, mobile and reliable broadband network known as FirstNet.
AT&T's FirstNet provides emergency responders with a nationwide, high-speed broadband channel solely dedicated to public safety, available by subscription in all 50 states, three territories and Washington, D.C., with a buildout schedule of 25 years.
Drones, like all fire department related equipment, benefit from utilization of FirstNet when and where available. One portable site provided FirstNet wireless service after Hurricane Maria hit Puerto Rico, utilizing connections generated by and for drones to link first responders and civilians in distress.
Mission-critical communication compatibility with FirstNet for UAVs depends on fixed site, vehicle and portable heavy-duty routers, towers and amplifiers providing push-to-talk, proximity services, universal compatibility, and the secure exchange of essential data. These commercial connection devices must be certified and approved by FirstNet based on technical requirements and industry standards, and their ability to be utilized in and outside the FirstNet system.
Within the next decade, such advanced technology will guarantee a nationwide broadband network for all public safety agencies regardless of environment or incident location, as well as protected connections for all UAV operations.