6 ways a new patient tracking tool can improve major incident response
Triage at major events can be slow, and tracking patients can be difficult – Pulsara's new functionality is aimed at improving both experiences
---
Sponsored by Pulsara
By John Erich, FireRescue1 BrandFocus Staff
As it prepared for takeoff, the 737 couldn't avoid the speeding rental truck that came crashing toward it through the fence beyond the airport tarmac. The resulting collision killed 14 of its passengers and crew, as well as the driver of the truck, and left 56 more injured.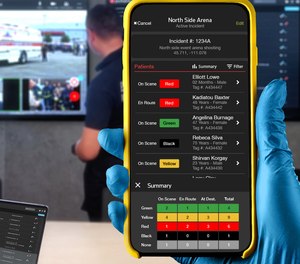 First responders from multiple agencies rushed to the scene that morning last October at Preston Smith International Airport in Lubbock, Texas, to respond to the full-scale mass-casualty exercise. Medical personnel triaged the wounded and gave them special armbands the state now uses for patients experiencing time-sensitive emergencies, including victims of mass-casualty incidents. The bands contained individual barcodes that, with a quick scan, would take any responder at the scene to a dedicated care channel for that patient, where the provider could then enter the patient's identifying and treatment information.
The testing of that technology – new functionality from Pulsara designed to help responders triage and track patients in major incidents – was one of the goals of the exercise, which simulated the kind of MCI that often overwhelms unprepared systems.
"We were looking for ways to improve patient tracking and incident awareness for all command staff on scene," said Logistics Chief and Emergency Preparedness Specialist Brent Fox, NREMT-P, of University Medical Center EMS in Lubbock. "Pulsara allowed everyone on scene to have full visibility from any location once they joined the incident."
That quick, easy shared awareness – with everyone who's part of the response having access to the same information – is among several important benefits of the new tool responders to the Lubbock exercise got to experience firsthand.
ONE SCAN TELLS ALL
Here's how the new functionality works: Once a patient is initially triaged and the responding system's identifying mechanism (triage tag, wristband, etc.) is applied, any responder can scan the barcode on that tag or band and, with the push of a few buttons, create a dedicated channel for that patient in the Pulsara Incident Management platform. Once that channel begins to be populated with information, subsequent responders from any participating organization who encounter that patient can join that channel and access that information with the same quick scan.
That scan will provide them with the latest on vital signs, known demographic information, treatments and any communications and notes about the patient. They will be able to add and update information, including photos, and track patient statuses as the incident progresses.
For those in charge, a convenient incident overview aggregates all the individual patient information into a big-picture view that gives command patient totals using familiar color-based triage statuses and other necessary information all in near-real-time. This lets them make informed decisions about what resources are needed where and how to distribute casualties among hospitals.
The barcodes can also be used by hospital staff to identify patients from MCIs and know exactly what's been done for them. That single identifier, used from first response through EMS care and into the emergency department, helps ensure accuracy in the transitions between caregivers that can so often lead to errors.
"Our purpose is to improve the lives of people in need and those who serve them," said Pulsara founder and CEO James Woodson, M.D., FACEP. "To do that, it's imperative to get the right information to the right people at the right time. In mass-casualty and multiple-patient incidents, the 'right time' can be a matter of seconds. We're excited to be able to empower emergency responders with a tool that will enable them to connect with the right people at the right time and better track patients, even in the most critical of situations." 
6 THINGS DISCOVERED IN LUBBOCK
Responders to the Lubbock exercise found six clear benefits to Pulsara's Incident Management tool.
1. Speed – While paper triage tags have been a reliable feature of MCI response for generations, they're not quick to use. In Texas, combining the preproduced wristbands with Pulsara's Incident Management functionality yielded a faster, more efficient way to work through a high number of casualties.
"The application is so user-friendly, my personnel enjoyed being able to streamline the triage process on a busy scene," said Fox. "Using paper triage tags can cause unneeded confusion or lost time on a scene where resources are overloaded and seconds count. Our responders were able to locate, triage and start the patient channels with ease."
2. Accountability – Using the new functionality, Lubbock responders had all patients accounted for within 25 minutes of the time of the call. "Having this visibility on-scene allowed us to ensure the correct patients were transported at the correct time," said Fox. "When the last patient left the scene, we were able to have real-time statuses and 100% accountability for all patients transported."
The functionality also helped reduce confusing radio cross-chatter during the response and streamline essential communication within the chain of command.
"Pulsara was able to connect multiple command staff and resource personnel who previously would have tied up radio traffic for communication," Fox added. "The application allowed us to communicate less on the radio, as everyone had the visibility to see what was happening in real time."
3. Visibility – With entire patient loads displayed by severity and current information about their cases, incident and branch chiefs could make data-driven decisions about what additional assets and personnel might be needed, how to distribute patients to hospitals and other aspects of care and operations, rather than relying on dated information or guesswork.
4. Seamlessness – Relevant patient channels can be combined into a dedicated space for the incident. Once emergency department staff accept patients at the hospital, those personnel can be added to those care channels, see everything that's been done in the prehospital environment and continue to use the patients channels as needed. Channels can also be added to the incident retroactively if more patients are identified.
5. Simplicity – With the Pulsara platform being new to University Medical Center EMS, some personnel hadn't seen it until the day before the exercise. They found the workflow easy, Fox says, and operated it with no problems on-scene. Responders liked it so much, the system plans to start using it for other large gatherings.
6. Flexibility – While personnel in Lubbock constructed a truck/plane crash MCI as their test scenario, Pulsara is designed to scale from the routine single-patient case to any type of multicasualty event, natural disaster or large-scale accident. It can also benefit family reunification efforts afterward, as responding organizations will know who they've treated and where they've gone, and channels can also hold photos, emergency contacts and other family info provided by the injured. Third parties can also be added to facilitate such purposes, and the platform supports secure live video communication among all parties. For a more granular level of flexibility, ID fields are configurable to local system preferences.
TRIAGE AND TRACK MORE EFFICIENTLY
For agencies that already use Pulsara's communication platform, the new Incident Management functionality will be familiar and comfortable to turn to under the duress of a crisis. New users will find it easy to implement and operate. And in both cases responders will experience a faster, more efficient way to triage and track the victims of major incidents.
"Nothing we've ever done has allowed us to track patients in real time like Pulsara," said Fox. "Having the ability to alert hospital facilities and get more information to the trauma teams was great. Being able to attach photos of the scene, patient injuries and other critical information allowed the hospitals to have the correct resources for the patients upon arrival and gave the hospital teams a size-up without having a representative on scene."
For more information, visit Pulsara.
READ NEXT: Communications beyond the radio: 10 things you need to know 

Request information from Pulsara
Thank You!