Emergency response interoperability's next generation
Public-safety IT managers need to focus on publish-and-subscribe models for interoperable, public-safety networks
---
By Jarret Winkelman
It is true today that if you have a particular data need, there is probably "an app for that." There are dozens of apps on my phone, and I can't seem to make it through a workday without being logged into the various systems that provide me with the information I need every day.
The same is likely true in your organization. Take any number of public-safety systems — CAD, RMS, scheduling, city cameras, shot detection, crime analytics, pre-incident planning, incident management — and chances are many of these systems are completely separate.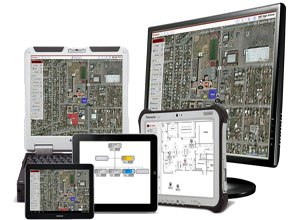 In addition, systems do not interoperate with municipal and private networks to access additional data, including hospital status, traffic conditions, district water data, weather, school attendance figures, cameras in a local mall and more.
Historically, interoperability largely has been focused on radio communication capabilities and perhaps sharing dispatch information. Interoperability between all digital systems in the public-safety ecosystem has become increasingly important.
At its core, information system interoperability means that sensitive data can be exchanged between connected systems at a frequency and form compatible to both. In other words, systems need to be able to understand the data shared from third-party systems and receive updates at a rate that keeps the information accurate and useable by the end user.
Taking the right approach
It is common for developers to take what initially appears to be the simplest approach by creating a direct point-to-point integration to exchange data. However, this method becomes inefficient when data must be shared between more than two systems, and may be impossible when data must be shared between competing systems.
Therefore, the preferred industry practice uses a publish-and-subscribe capability, which has become the predominant solution for interoperability in preference to point-to-point integration.
Having a common operating picture is one of the prime benefits of integrating several systems. This can be of particular value during major incidents where it may be beneficial to view data from multiple systems (cameras, CAD, incident command, pre-plans, school attendance data and more) in one common dashboard.
Imagine the increased situational awareness this would bring to, say, an active shooter at a local school. Decisions are based on access to rapid and valid information. Bringing systems together into a common output allows users to more rapidly access, and understand the data.
Following industry standards
When system interoperability becomes a necessary component of the information architecture, there are several industry standards that can be used to accomplish the task. The publish-and-subscribe capabilities are well documented and are used by a number of organizations to bring together a myriad of operational devices and GUIs into a single common operating picture.
When done correctly, this approach can generate a huge increase in value from existing systems by allowing users to quickly understand the totality of the data at hand, rather than needing to make manual assumptions or translations.
In the end, the integration of otherwise non-correlated systems can allow your organization to better use existing systems, more rapidly access data during emergencies, and better understand how the data output from one system affects another. With the threats our jurisdictions face today, this capability is invaluable.

Request product info from top Fire Wireless Communications companies
Thank You!