ImageTrend introduces active data monitoring system
The system provides users with real-time updates and alerts via multiple platforms
---
By FireRescue1 Staff
LAKEVILLE, Minn. — ImageTrend Inc. released Continuum, a solution for active data monitoring and automated delivery of information. Users are able to select what information to monitor, receive and view. 
Active data and information is delivered as alerts or summaries via channels such as SMS/text, email or application dashboards based on the feeds the user selects. Factors such as rules, thresholds or time influence the trigger for delivery.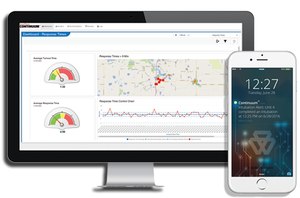 With the connected, real-time nature of the solution, organizational leaders can make informed decisions and take knowledgeable actions sooner. 
"With Continuum, your data becomes delivered information allowing you the wisdom to make more informed decisions to impact operations and patient care. With no reports to build, Continuum will be easy for organizations to adopts," ImageTrend Vice President of Client Services Joe Graw said. 

Request product info from top Fire Wireless Communications companies
Thank You!