PRESS RELEASE
Trumbull Software Associates Launches Spotted Dog Technologies
---
end picture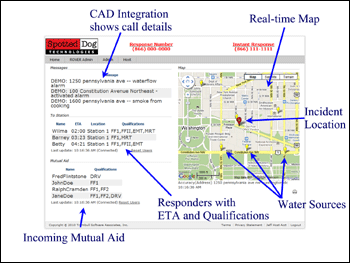 Emergency Responder Management Solution to be released as ROVER 2.0
Monroe, CT – Trumbull Software Associates, an innovative provider of technology and communications solutions, today announced that it will be marketing its emergency responder management systems under the name Spotted Dog Technologies. A new corporate identity and web site have been launched to support the name change. The company also announced that the firm's flagship product, PageConfirm, is being renamed Real-time Volunteer Emergency Response System or ROVER 2.0.
According to company co-founder, Larry Mark, "The new brand was created to emphasize our commitment to serving the needs of emergency response organizations. Our focus is on improving incident management by developing solutions that help first responders more effectively communicate and collaborate with each other and their command."
ROVER 2.0 is a web-based solution that closes the communication loop on traditional call-out systems by enabling responders to instantly communicate their availability, qualifications, destination and estimated travel time using any phone or web browser. All responder information is immediately accessible through any Internet connection to help facilitate the best allocation of assets and the timely deployment of equipment and emergency personnel.
"This system gives us the ability to make the right decisions at the right time," said Chief Robert Galbraith of the Stevenson Volunteer Fire Department in Monroe, CT. "Our volunteers press a button on their phone and we instantly know who is responding. We know when to leave the station and if we need mutual aid. It's helping us to better serve and protect our community and ensure the safety of our first responders."
Enhancements to the new ROVER release include integration with computer-aided dispatch (CAD) software and unique mapping features that provide users with critical information on the exact location of the emergency incident. It stores and retrieves pre-plans on thousands of locations and immediately provides important site data such as characteristics of a building or its occupants (elderly/disabled), the location of hazardous materials and water resources.
In addition to being one of Spotted Dog Technologies' co- founders, Geoffrey Giordano has been a firefighter for over 26 years, "Our solution is built of real-world experience, with tools than can make a significant difference in those first few minutes of an emergency." Giordano said.
Spotted Dog Technologies is a business unit of Trumbull Software Associates, a full-service technology and communications consulting firm. The company specializes in providing professional software development, system integration and project management services across a wide array of industries. The company's principals hold several U.S. patents in the field of speech recogntion, automated call monitoring and data monitoring. For more information, visit www.SpottedDogTech.com or www.trumsoft.com.