How high tech improves fire, EMS dispatch
Streamlining 911 dispatch equipment helps dispatchers manage their increasing and more complex workload
---
By Mark Cranmore, Contributor
They are the first point of contact to receive and respond to an emergency 911 call, and for many of them, those calls are coming in faster and more frequently than ever before.
Depending on the size of the municipality, a dispatch center can receive hundreds of calls every hour. Often, the dispatch center is literally the focus of leadership and management of the entire response system.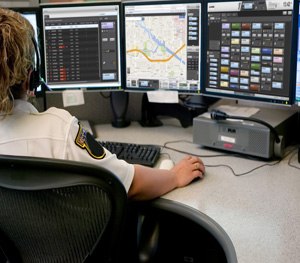 There are many tools that can help streamline dispatch operations. In fact, new technology gives dispatchers access to some of the most innovative and streamlined equipment available that allows them to quickly respond and convey information efficiently while communicating with 911 callers.
As technology marches forward and towns, cities and counties continue to grow, the job of a dispatcher also has grown and become significantly more complex. Adding to that complexity is the current trend of many municipalities to consolidate their dispatch operations with their neighboring cities or towns to share, and hopefully reduce, costs. 
By adopting some of the newest technology and equipment, dispatchers can readily determine the nature, location and extent of the crisis situation, and then form an early understanding of what first responders will face upon arrival at the scene.
For this important work, their primary tool is their dispatch console — a hardware and software solution that interfaces with a radio system, allowing the dispatcher to manage relevant data and communicate directly with all emergency responders to coordinate their response activities.
Growing municipalities mean that individual dispatchers are handling more calls and juggling more situations and responses; an effective workflow process isn't a luxury, or even an option anymore — it's a requirement. Because the information load for the dispatcher is growing, consolidation of devices, user interfaces and information tools should be key when optimizing the dispatcher's workstation and environment.
Clean, workflow-conscious space in which to operate, augmented by the most cutting-edge and intuitive technology in a streamlined package is what's called for. Companies serving the public safety industry are focused on identifying trends and improving technology through studies and conducting research projects that observe and interact with actual dispatchers to determine their process pain points.
And it didn't take long to hone in on one particular problem. As one can imagine, switching between screens and keyboards takes precious seconds and can cause confusion at a time when every moment counts.
The solution? A single organized screen on the console that allows dispatchers to complete multiple tasks at once while eliminating the need for multiple screens.
Dispatchers need solutions that further simplify their station by displacing monitors and supporting single mouse and keyboard operations for both CAD and broadband and narrowband radio operation. Innovative console technology can be deployed to eliminate the complexity of managing a cluttered legacy dispatch console configuration.
A well-developed console that supports remote radio call playback directly on the CAD screen, and ensures that priority emergencies are displayed directly in line of sight increases effectiveness even further.
Having and conveying as much information as possible about a situation on the ground is a key part of a dispatcher's role. Referred to as situational awareness, this information flow can be enhanced by providing dispatchers with the right technology and giving them meaningful access to information that better serves first responders on the scene.
To provide incident commanders with superior situational awareness, manufacturers are developing and testing technology that can gather and convey data and imagery. With the development and integration of the most advanced long-term evolution-based software applications, first responders are able to combine traditional push-to-talk communications with real-time location and presence information.
The result is a stronger link between dispatchers and team members with information delivered through their smartphone or tablet. Combined with a modern dispatch console, this gives dispatchers and first responders the tools they need for better emergency response.
There is a great deal of technology on the market for dispatchers. However, when considering which tools can enhance dispatch operations most quickly, it makes sense to focus on tools that make the dispatcher's station more streamlined and as efficient as possible.
In the heat of the moment, when an emergency occurs and that critical call is placed to 911, a great burden falls on a single person — the dispatcher. He or she must be able to react as trained, under highly variable circumstances, and get the right information and resources to the right place at the right time.
The best console solution is one that keeps the dispatcher at the heart of the effort, truly a conductor during emergency response ensuring harmonious coordination and streamlined response.
Mark Cranmore is a product manager at Harris Corporation.
Request product info from top Fire Computer Aided Dispatch (CAD) companies
Thank You!